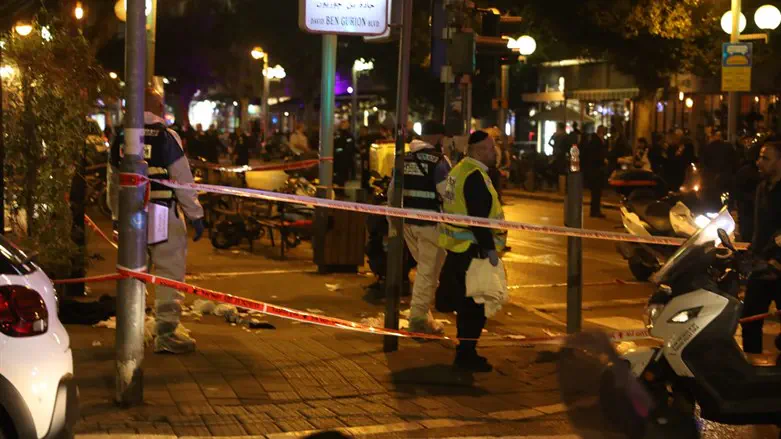 Scene of Tel Aviv shooting attack
Elyashiv Rakovski/TPS
Hamas spokesperson Abdul Latif al-Qanoua reacted on Thursday night to the shooting attack on Dizengoff Street in Tel Aviv and described it as "an initial response to the crimes of the Zionist occupation, the latest of which was the murder of three young men in Jaba', in the Jenin district," a reference to the elimination of three Islamic Jihad terrorists who were on their way to an attack.
He pointed out that the terrorist who carried out the attack in Tel Aviv, 23-year-old Mutaz Salah al-Khawaja from the Palestinian Arab village of Ni'lin, was active in the Al-Qassam Brigades, the military arm of the Hamas terrorist organization.
Hours before carrying out the attack, the terrorist was recorded calling for jihad and wishing to die as a shaheed (martyr).
Hamas warned that the "continuation of aggression and the desecration of the Al-Aqsa Mosque will lead to more painful attacks against Israel, as the Palestinians are willing to defend themselves and avenge the blood of the shaheeds without taking the victims into account."
"The young rebels and the heroes of the resistance in the West Bank will continue to deliver their high-quality blows and carry out their acts of heroism as part of the confrontation with the government of the hordes of settlers. The response to the crimes of the occupation and its terrorism will be legitimate and permitted until the occupation stops and is removed from our country," said the Hamas spokesman.