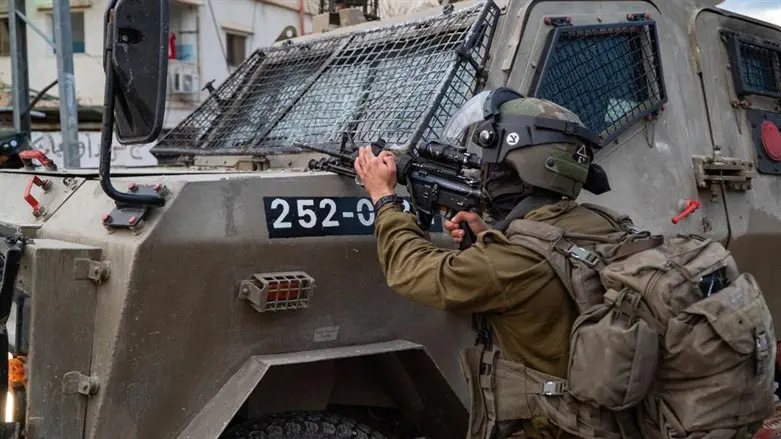 IDF operation
IDF Spokesperson
A Border Police SWAT team eliminated three terrorists Thursday morning in the town of Jaba' south of Jenin in Samaria.
The three terrorists exited a vehicle and opened fire at the soldiers, who returned fire. The terrorists were armed with explosives, pistols, and a rifle.
Two of those killed were those who were targeted for arrest and belonged to the Palestinian Islamic Jihad terror organization. They were suspected of carrying out several shooting attacks near Jenin and the destroyed Jewish village of Homesh. The third terrorist also belonged to the organization and was released from detention last month.
On Tuesday, IDF, Yamam, and Shin Bet forces came under fire while carrying out an operation to arrest wanted terrorists in Jenin. Six terrorists were killed in the battle, including al-Fattah Hussein Ibrahim Gharusha, the Hamas terrorist who shot and killed 21-year-old Hallel Yaniv and 19-year-old Yagel Yaniv in a shooting attack in the Arab village of Huwara in Samaria on February 26th.
In helmet camera footage released by the Police, officers can be seen approaching Gharusha's hiding place.
Later it was reported that Gharusha was released from prison four months ago after being arrested for planning shooting attacks against Israeli soldiers.
Gharusha, a resident of Askar, near Shechem (Nablus) in Samaria, had armed one of his sons with a Carlo-style submachine gun for the planned shooting attack.
Gharusha served just under three years before being released in late 2022, despite warnings from intel and security officials, who noted that Gharusha had also planned attacks on Israeli civilians, including in Huwara.