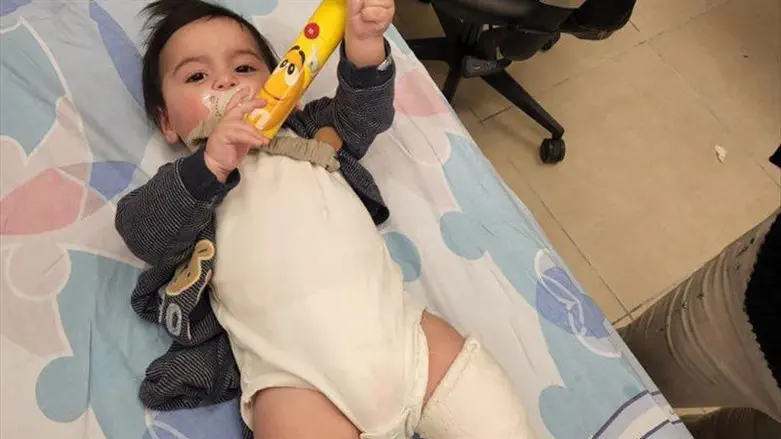 Rif-Moshe Benita
picture used with permission of family
An eight-month-old baby broke his hip when he fell from his older sister's arms while she was running for shelter in Sderot during the rocket fire from Gaza last night (Wednesday).
Little Rif-Moshe Benita will have to remain in a cast for six weeks. The boy's father, Yakov Benita, told Kan News: "It's insane that a baby breaks his leg before he can even learn to walk, because of an alarm. It's painful that the children of Sderot have to live in such a reality."
Terrorists in Gaza fired a rocket at Israel Wednesday evening, triggering the red alert siren in Sderot and other Gaza envelope communities. In response, the Israeli Air Force struck several targets in Gaza.
The IDF confirmed that 12 rockets were fired from Gaza around the time of the IAF retaliation, at about 2:30 am this morning. 11 of the rockets fell in open areas, and one fell in the Gaza Strip.
A 50-year-old woman was lightly injured when she slipped while running for a bomb shelter during the first rocket attack. That rocket was intercepted by the Iron Dome missile defense system.
National Security Minister Itamar Ben-Gvir expressed his dissatisfaction with the IDF's response to the rocket fire, saying that Israel should respond by eliminating the leaders of the Hamas terrorist organization which rules Gaza.
In an interview on the sidelines of a conference for directors of religious institutions in Eilat, Ben-Gvir told Israel National News editor-in-chief Uzi Baruch: "I am not satisfied with the IDF's response in Gaza tonight. I think that our response needs to be totally different. Hamas needs to know that the new government is changing the equation. For every rocket fired, there will be targeted assassinations. I'm in the cabinet, and I could bring down the government, but of course we need to see how to achieve the most."