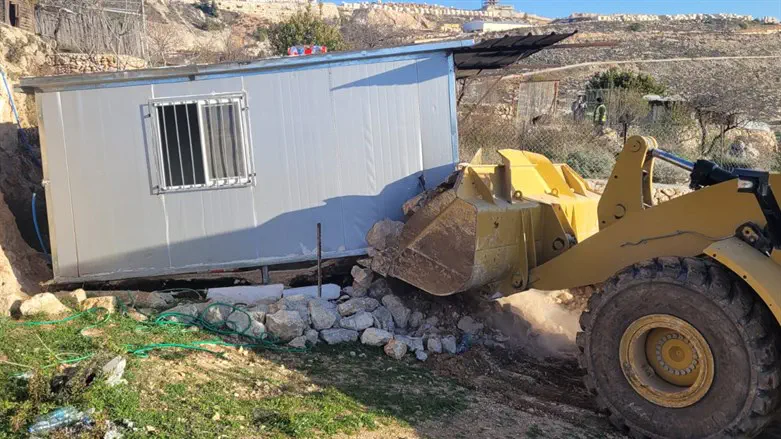 demolishing illegal; PA structure
no credit
IDF forces, police and the Civil Administration today (Sunday) demolished illegal Palestinian Authority buildings in Wadi Rahhal and Irtas in the Gush Etzion area.
COGAT stated that the activities were carried out in accordance with the IDF's authority in the Judea and Samaria region.
The demolitions come after Israeli police forces dismantled a newly-established hilltop outpost community in Samaria Friday afternoon, just hours after the outpost was established. Friday's demolitions prompted the Religious Zionism party to boycott today's Cabinet meeting and threaten to boycott tomorrow's Knesset votes in protest.
Religious Zionism director Yehuda Vald tweeted: "There are explicit agreements on the transfer of powers and receiving tools to make a real change in normalizing settlements and stopping the Arab takeover of Area C in the Jewish state. The uncoordinated evacuation on Friday is a display of a lack of understanding of how things should be conducted. I hope that Netanyahu and Gallant will consider a new course so that we can together promote the right-wing policy for which we were elected."
The Otzma Yehudit party's ministers' including National Security Minister Itamar Ben-Gvir, will attend the Cabinet meeting, where they will demand the evacuation of Khan Al Ahmar and other illegal Arab outposts.