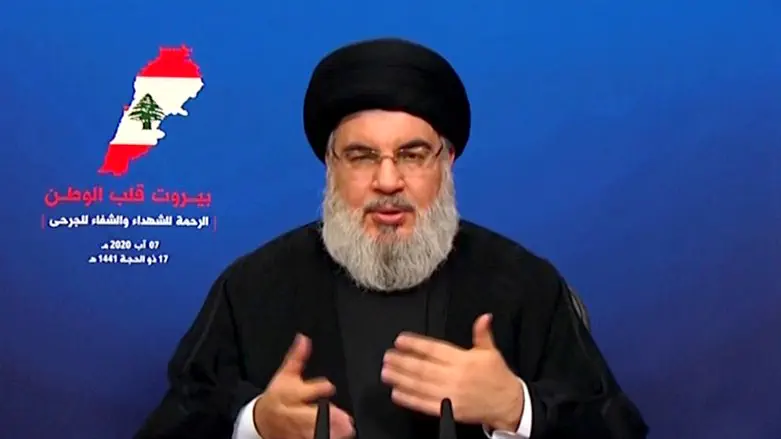 Hassan Nasrallah
Reuters
Hezbollah leader Hassan Nasrallah said on Wednesday that the terror organization's forces would "respond immediately if Israel starts a war" over the explosion in northern Israel that wounded a 21-year-old man last week, i24NEWS reported.
His comments came a week after the explosion of the roadside bomb on Highway 65, near Megiddo Junction.
While Israeli authorities initially considered the possibility that the bombing was crime-related, it later became apparent the incident was an act of terror. The IDF revealed this week that the terrorist crossed the border from Lebanon into Israel using a ladder.
A day after the attack, a hitherto unknown terrorist group, calling itself Galilee Forces – the Lone Wolves, claimed responsibility for the attack. The group is believed to be linked to Hezbollah.
Nasrallah, in his comments on Wednesday, did not provide too many details about the Megiddo Junction attack and would only say, "The enemy must look for where the person who carried out the operation in Megiddo came from, and we are not interested in commenting on what happened."
"Our silence is part of conducting the battle, and it is also part of our political campaign," he added.
"If Israel starts a war against Lebanon for what happened, it could lead to a battle in the entire region, and we will respond to any attack against us," warned Nasrallah.
The Hezbollah leader is no stranger to threatening Israel, and has used current internal tensions within Israel to claim that the country's end is approaching.
In a televised address last month, he claimed that Israel would not survive another five years to celebrate its 80th birthday.
Earlier this month, Nasrallah claimed that the controversy in Israel over the government's planned judicial reforms showed that the Jewish State is approaching the end of its existence.