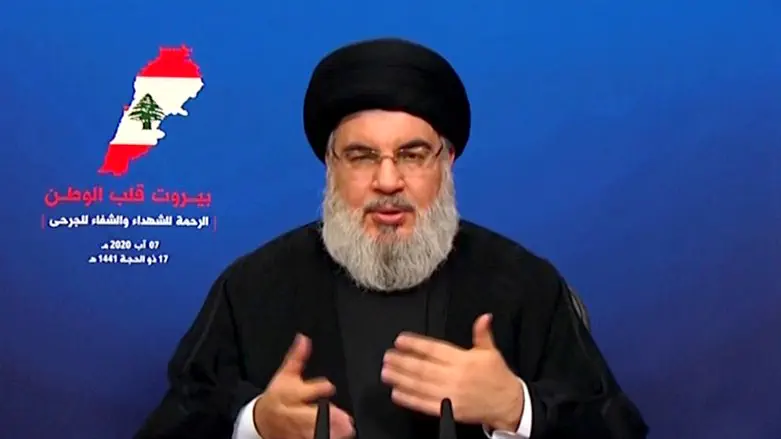 Nasrallah
Reuters
Hassan Nasrallah, the leader of the Lebanese terrorist organization, claimed that the controversy in Israel over the government's planned judicial reforms showed that the Jewish State is approaching the end of its existence.
"Everything that is happening in Israel is among the signs of the end of this entity," Nasrallah said in a video address Monday.
He warned that the efforts of the Otzma Yehudit party to pass a law imposing the death penalty for terrorists would only lead to an increase in terrorist attacks against Israelis.
"Any time your enemy decides to pass a law to execute prisoners, it means he is a fool," the terrorist leader said. "You foolish Zionists, this law will increase the courage of the Palestinian mujahideen (Islamic warriors) to carry out operations."
This is not the first time Nasrallah has used the current internal tensions within Israel to claim that the country's end is approaching. In a televised address last month, he claimed that Israel would not survive another five years to celebrate its 80th birthday.
"The situation in the enemy's entity is unprecedented on the internal level, the strategic environment and the current foolish government are pushing matters into two major clashes, the first internally in Israel and the second with the Palestinians, and it may extend throughout the region," he said.
He added: "For the first time in the Zionist entity, we hear talk from the president of the entity, former prime ministers, and former defense ministers, all of whom talk about civil war, bloodshed, the imminence of an explosion and emigration. The head of the occupation entity himself acknowledged his fears of an imminent internal explosion and the collapse of the entity."
The terrorist leader added that Israeli leaders have expressed concern that the country, which will soon celebrate its 75th Independence Day, will not survive until its 80th birthday. "The biggest threat to us in the region, Allah willing, will not last 80 years."
Prime Minister Benjamin Netanyahu today warned that the IDF reservists who are threatening not to report for duty to protest the planned judicial reforms "threaten the foundation of our existence."
Attending a reading of the Book of Esther at the Border Police base in Beit Horon Monday evening, the prime minister said that "in society there is room for protest, room for opposing viewpoints, but no room for refusals, because as soon as it is legitimized, it will spread and become a [common] method."