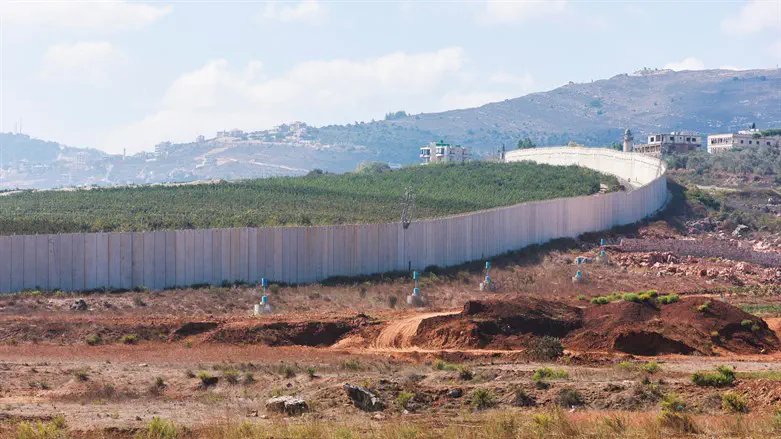 Israel-Lebanon border
REUTERS
An Arab terrorist who infiltrated Israel from Lebanon and who is suspected in a bombing attack in northern Israel last week that left one person seriously injured managed to cross into Israel and avoid detection with a ladder, the IDF revealed Tuesday.
At approximately 6:00 a.m. last Monday, a 21-year-old Israeli-Arab road maintenance worker from the town of Salem in the Jezreel Valley was seriously injured when a roadside bomb exploded as he drove down Route 65, near Megiddo Junction.
While Israeli authorities initially considered the possibility that the bombing was crime-related, though it later became apparent the incident was an act of terror, with security officials noting a similarity in the construction and placement of the bomb with attacks by terrorist groups against the IDF in southern Lebanon prior to the 2000 withdrawal.
A day later, a hitherto unknown terrorist group, calling itself Galilee Forces – the Lone Wolves, claimed responsibility for the attack. The group is believed to be linked to the Lebanese group Hezbollah.
Later on Monday, a second bombing attack was foiled and the terrorist shot and killed near the town of Shlomi, just south of the Lebanon-Israel border.
The terrorist did not cross into Israel by way of a terror tunnel, the army said on Tuesday, but instead was able to climb over the sophisticated border fence with a ladder. The terrorist was not spotted by soldiers posted at lookout posts, nor did he set off the border fence's detection system.
The army also revealed that the terrorist crossed over into Israel with explosives strapped to his body, while carrying a large bag of equipment.