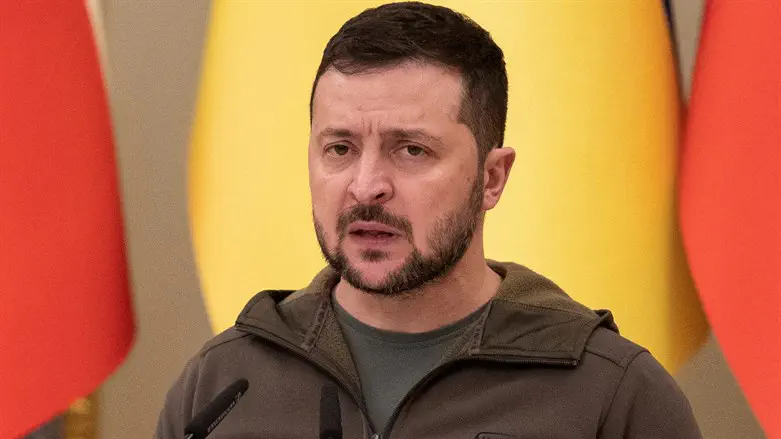 Volodymyr Zelenskyy
REUTERS/Viacheslav Ratynskyi
Ukrainian President Volodymyr Zelenskyy denied on Sunday Moscow's claims that the eastern Ukrainian city of Bakhmut has fallen to Russian forces.
Responding to a reporter's question about the status of the city at the Group of Seven meeting in Hiroshima, Japan, Zelenskyy said: "Bakhmut is not occupied by the Russian Federation as of today."
According to AP, the fog of war made it impossible to confirm the situation on the ground in the invasion's longest battle, and a series of comments from Ukrainian and Russian officials added confusion to the matter.
Zelenskyy's response in English to a question earlier at the summit about the status of Bakhmut was interpreted by many as saying the city had fallen to Russian forces.
"For today, Bakhmut is only in our hearts. There is nothing in this place," Zelenskyy said in those earlier comments, adding that the fight had left nothing in Bakhmut but a lot of "dead Russians."
Earlier Sunday, AP reported that military officials said Ukrainian soldiers were still engaging Russian forces in fierce battles in and around Bakhmut.
Ukrainian Deputy Defense Minister Hanna Malyar even went so far as to say that Ukrainian troops "took the city in a semi-encirclement."
"The enemy failed to surround Bakhmut, and they lost part of the dominant heights around the city," Malyar said. "That is, the advance of our troops in the suburbs along the flanks, which is still ongoing, greatly complicates the enemy's presence in Bakhmut."
On Saturday, Russia claimed to have fully captured Bakhmut, which would mark an end to the longest and bloodiest battle of the 15-month war.
The assault on the largely leveled city was led by troops from the Wagner Group of mercenaries, whose leader Yevgeny Prigozhin said earlier in the day that his troops had finally pushed the Ukrainians out of the last built-up area inside the city.
Taking Bakhmut, which Russia refers to by its Soviet-era name of Artyomovsk, would represent Moscow's first big victory in the conflict in more than ten months.
"As a result of offensive actions by Wagner assault units, supported by artillery and aviation of the Southern Group of Forces, the liberation of Artyomovsk has been completed," the Russian defense ministry said in a one-line statement quoted by Reuters.