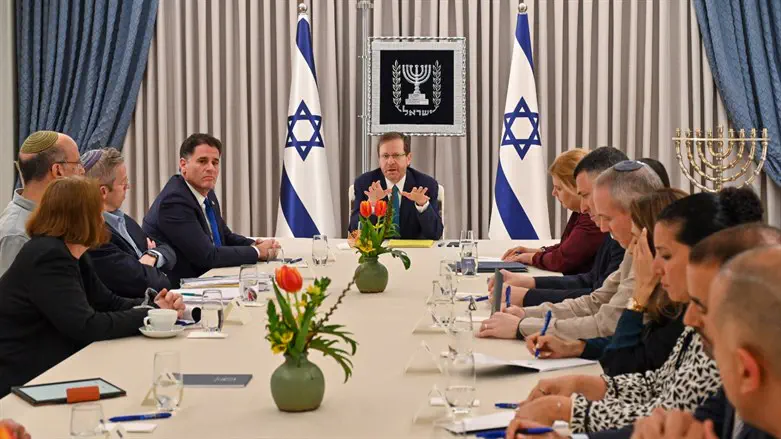 Herzog hosts talks Tuesday
Kobi Gideon/GPO
President Isaac Herzog held consultations with lawmakers from the United Arab List (Ra'am), Hadash-Ta'al, and Labor Party factions Wednesday, as part of his effort to broker a compromise on judicial reform.
Negotiating teams from the Coalition and the Opposition, including the Likud, Yesh Atid, and National Union factions met for their first round of talks at the President's residence Tuesday night, a day after Prime Minister Benjamin Netanyahu announced that the government is pausing the judicial reform plan.
Despite the agreement of both sides to sit down for negotiations, however, most Israelis are pessimistic regarding the prospects for the talks, according to a new poll.
The survey, conducted by Panels Politics and published by Ma'ariv Wednesday morning, found that just 41% of Israelis believe there is a realistic chance the talks will yield a compromise agreed upon by both sides.
Fifty-two percent, by comparison, believe there is no chance whatsoever for a compromise.
Left-wing respondents – who were the group most likely to oppose the judicial reform – were the most pessimistic, with 74% of them saying they believe the talks have no chance of leading to a compromise.
Religious respondents – a demographic group which has strongly supported the reform – were also largely pessimistic about the chances for a compromise, with 61% saying the talks will not result in a deal.
Likud voters were the most optimistic, with 54% believing there is a chance for a deal, while Yesh Atid voters were the least optimistic, with 66% believing there is no chance of a compromise.
Nearly half (41%) of respondents also were unable to find any area of the reform in which they were willing to compromise.