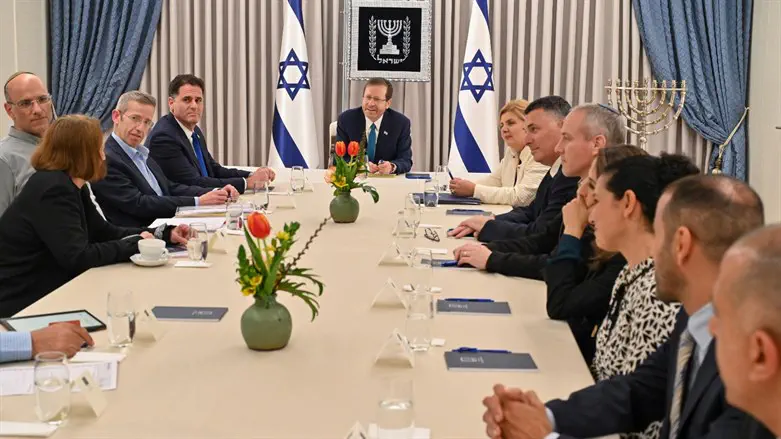 President meets coalition, opposition negotiation teams
Kobi Gideon/GPO
President Isaac Herzog held the first round of negotiations between the coalition and opposition on the government's planned judicial reforms at his official residence this evening (Tuesday).
The Likud party's negotiating team will consist of Minister Ron Dermer, government secretary Yossi Fuchs, and Dr. Aviad Bakshi, the director of the legal department in the Kohelet Policy Forum.
The architects of the judicial reforms, Justice Minister Yariv Levin and Knesset Constitution Committee chairman MK Simcha Rothman, will not be included in the coalition's negotiating team.
Opposition chairman MK Yair Lapid's team will comprise MK Orna Barbivay, MK Karin Elharar, a former director of the Prime Minister's Office, Naama Shultz, and attorney Oded Gazit.
The team chosen by National Unity party chairman MK Benny Gantz will consist of MK Gideon Sa'ar, MK Yehiel Tropper, MK Orit Farkash-Hacohen, and attorney Ronen Aviani.
President Herzog will meet with negotiating teams from the other political parties later this week. Tomorrow he will meet with representatives of the Labor and Yisrael Beytenu parties.
Yisrael Beytenu's negotiating team will consist of MK Oded Forer, former MKs Alex Kushnir and Limor Magen Telem and attorney Guy Wagner.
The Labor negotiating team will consist of MK Gilad Kariv, MK Efrat Rayten, former Justice Minister Avi Nissenkorn, and Dr. Tamar Hostovsky Brandes.