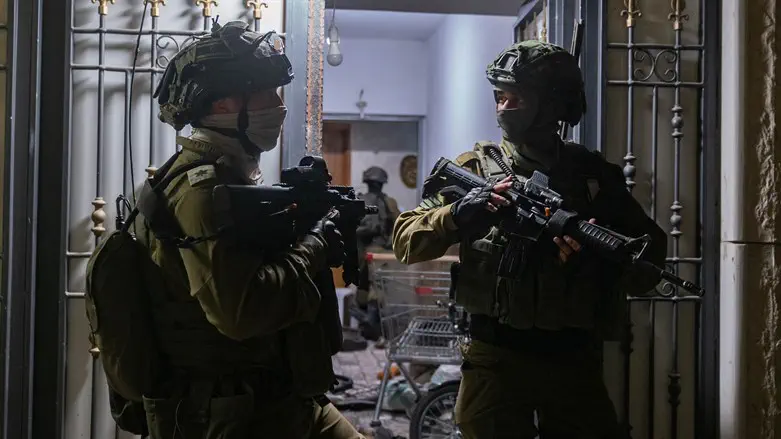 IDF soldiers during operation (archive)
IDF spokesperson
The Shin Bet announced today (Monday) that a member of the Islamic Jihad terrorist organization who was behind the shooting at an Israeli driver last week has been arrested.
Bahaa Yousef, 27, is accused of carrying out the shooting at Adam Square in the Binyamin region on Thursday morning. An Israeli vehicle was damaged, but no one was injured in the attack.
Yousef was arrested yesterday (Sunday), and the gun he allegedly used in the attack was seized.
According to the IDF, Yousef was planning to carry out additional shooting attacks,
There have been numerous shooting attacks in Judea and Samaria in the last month. On February 26, two Israeli brothers were murdered in a shooting attack in the village of Huwara. Three other Israelis have been wounded in two additional shootings in Huwara since then. On February 28, US-Israeli citizen Elan Ganeles was murdered while driving to a friend's wedding.
Last week, during a joint IDF and Shin Be) counterterrorism activity, the forces apprehended a terrorist squad from the town of Beit Ummar, who carried out a shooting attack toward the community of Karmei Tzur on January 22.
In less than a week after the shooting, IDF and Shin Bet forces apprehended three 20-year-old operatives from the town of Beit Ummar and transferred them for questioning.