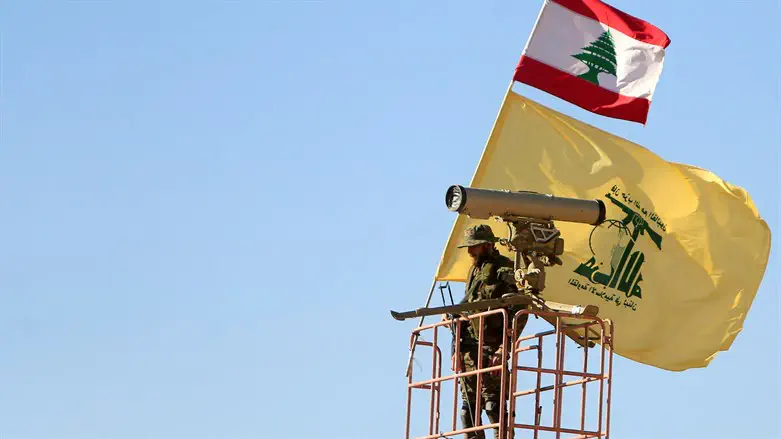 Hezbollah terrorist on watch tower
Reuters
The United States on Tuesday slapped sanctions on a high-profile Lebanese economist alleged to be assisting Hezbollah with its financial operations, The Associated Press reported.
The US Treasury Department announced sanctions against economist and money exchanger Hassan Moukalled; CTEX Exchange, a money service business owned by him; and Moukalled's sons, Rayyan Moukalled and Rani Moukalled, who the Treasury said in a statement "facilitate Hassan Moukalled and his company's financial activities in support of Hezbollah."
It also said that Moukalled, who frequently appears as an economic analyst on local media, had "worked in close coordination with senior Hezbollah financial officials to help Hizballah establish a presence in Lebanon's financial system." The Treasury added that he serves as a financial adviser to the group, "carrying out business deals on behalf of the group throughout the region."
The Treasury also alleged that Moukalled's exchange shop serves as a "financial front company" for Hezbollah.
The sanctions also targeted two other companies owned or controlled by Moukalled, the Lebanese Company for Information and Studies (LCIS) and Lebanese Company for Publishing, Media, and Research and Studies (LCPMR).
The United States regularly sanctions Lebanese officials and entities linked to Hezbollah.
In December, the US slapped terrorism sanctions on two accountants and two companies in Lebanon for providing Hezbollah with financial services.
Last May, the US Treasury Department designated Lebanese businessman and Hezbollah financial facilitator Ahmad Jalal Reda Abdallah and his companies.
The sanctions have in the past also targeted two former Lebanese Cabinet ministers allied with the terrorist organization: Ex-finance minister Ali Hassan Khalil and the former public works and transportation minister, Youssef Fenianos.