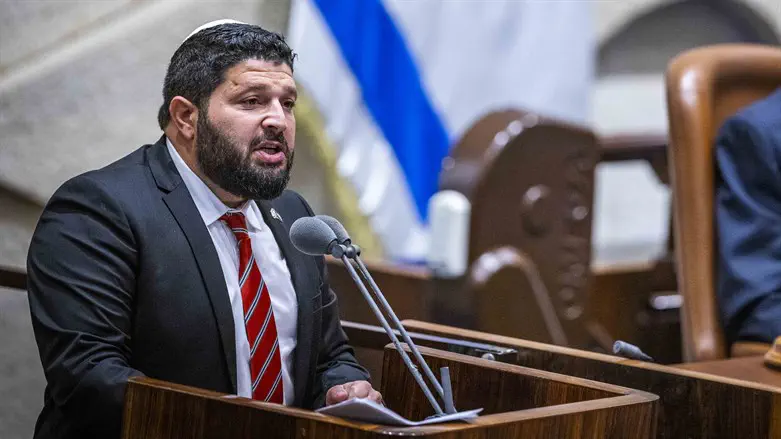 Almog Cohen
Olivier Fitoussi/Flash 90
MK Almog Cohen from the Otzma Yehudit Party will be appointed Deputy Minister in the Prime Minister's Office, and will head a department that will implement government decisions to improve the lives of the residents of the south.
Cohen said, "I am proud and happy to be a part of this excellent government, and more than that, I am excited to announce that I have accepted the position of Deputy Minister in the Prime Minister's Office, where I will be responsible for the Be'er Sheva metropolis, with a dedicated administration for the implementation of the government's decision."
"As I promised before the elections, I will continue the mission to which I was sent by you, which is to put the Negev in the center. Together with my friend, the Minister of the Negev and the Galilee Yitzhak Wasserlauf, we will bring a lot of important tidings for the residents of the Negev. I thank the chairman of Otzma Yehudit, MK Itamar Ben Gvir, for putting his trust in me, I will do everything not to disappoint and with God's help we will succeed," added Cohen.
The coalition agreement between the Likud and Otzma Yehudit parties includes an obligation to pass a law imposing taxes on donations from foreign governments to Israeli organizations.
This law seeks to impose taxes on extreme left-wing organizations that receive their budgets from foreign countries as well as respond to foreign interference in Israeli domestic politics.
Another significant clause in the coalition agreement states that within six months of the formation of the government, a law will be introduced to ban the flying of the PLO flag in state-supported institutions and Israeli municipalities.
The coalition agreement also includes the passage of a law imposing the death penalty for certain terrorists.
The coalition agreement states that "Due to the intensification of acts of terrorism with the intention of harming the State of Israel as the state of the Jewish people, and in order to defeat the threats, the coalition factions will enact, prior to the passage of the budget for 2023, a death penalty law for terrorists."