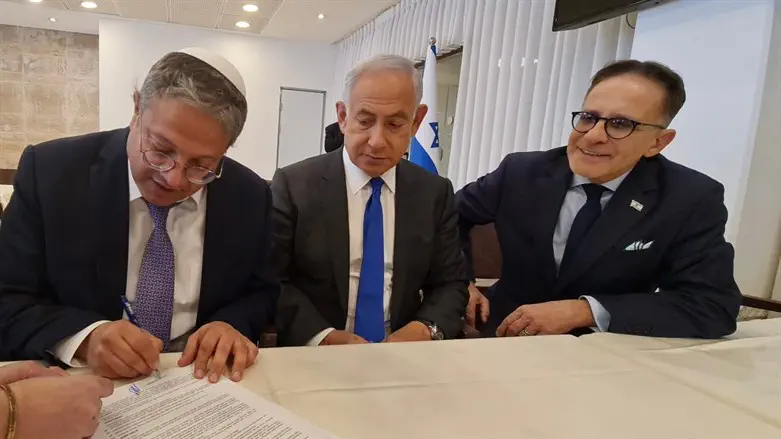 Netanyahu, Ben-Gvir sign coalition agreement
no credit
The coalition agreement between the Likud and Otzma Yehudit parties includes an obligation to pass a law imposing taxes on donations from foreign governments to Israeli organizations.
This law seeks to impose taxes on extreme left-wing organizations that receive their budgets from foreign countries as well as respond to foreign interference in Israeli domestic politics.
Another significant clause in the coalition agreement states that within six months of the formation of the government, a law will be introduced to ban the flying of the PLO flag in state-supported institutions and Israeli municipalities.
These two clauses were initially suggested by the Im Tirtzu movement in meetings with MKs from the national camp.
According to data presented by Im Tirtzu, a billion shekels have been transferred from foreign countries to Israeli organizations in the last decade, the vast majority of which are post-Zionist organizations, many of which call for IDF soldiers to be tried in The Hague and oppose the existence of Israel as a Jewish State.
Im Tirtzu CEO Matan Peleg said: "The entire people of Israel salutes the chairman of the Otzma Yehudit party, MK Itamar Ben-Gvir, for his insistence on including these important clauses which are critical for the future of the State of Israel in the coalition agreements. We would like to thank MK Ben-Gvir from the bottom of our hearts and see him as an important partner in the Zionist and national efforts. The people of Israel had their say in the elections - the State of Israel is not for sale."