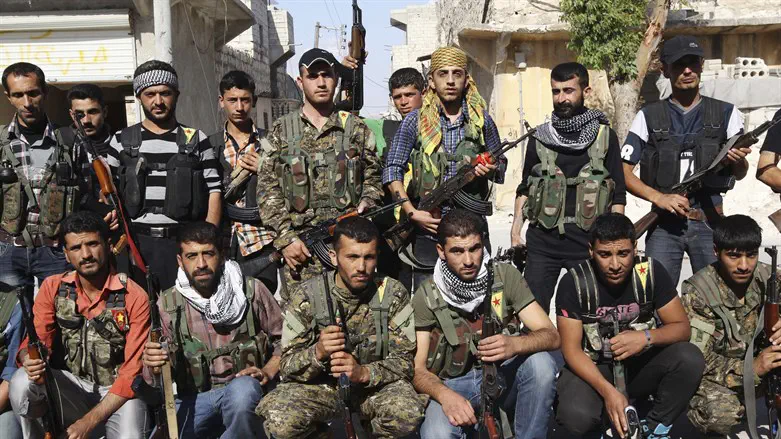 Kurdish YPG fighters
Flash 90
Turkish warplanes on Sunday carried out air strikes against suspected Kurdish targets in northern Iraq, Turkey's defense ministry announced, according to The Associated Press.
The strikes followed a suicide attack on a government building in the Turkish capital.
Some 20 targets of the Kurdistan Workers' Party (PKK) were "destroyed" in the latest aerial operation, including caves, shelters and depots, the ministry said.
It added that a large number of PKK operatives were "neutralized" in the strikes.
The strikes came hours after a suicide bomber detonated an explosive device near an entrance of the Interior Ministry in Ankara, wounding two police officers. A second assailant was killed in a shootout with police.
The PKK claimed responsibility for the suicide bombing, according to a news agency close to the rebel group. Turkey's Interior Ministry also identified one of the assailants as a member of the outlawed group. It said efforts were still underway to identify the second attacker.
The two assailants arrived at the scene inside a light commercial vehicle, which they seized from a veterinarian in the central province of Kayseri, the Turkish Interior Ministry.
Police found plastic explosives, hand grenades and a rocket launcher at the scene of the attack, a ministry statement said.
Turkey has conducted numerous cross-border offensives against the PKK in northern Iraq in recent years. It has also launched incursions into northern Syria since 2016 to drive away the Islamic State (ISIS) group and a Kurdish militia group, known by the initials YPG, and controls swaths of territory in the area.
YPG is a Kurdish group with ties to Kurds in Turkey, including the PKK. The US makes a distinction between the YPG and the PKK, but Turkey does not and considers both to be terrorist organizations.