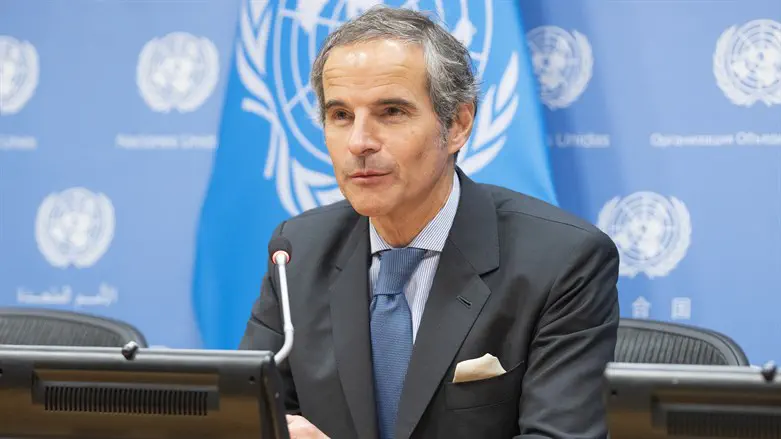 Rafael Grossi
Lev Radin/Sipa USA via Reuters Connect
Rafael Grossi, head of the International Atomic Energy Agency (IAEA), said on Monday he was concerned the international community was losing interest in holding Iran to account over its advancing nuclear program, AFP reported.
Last week, the IAEA said in reports seen by AFP that Iran had made "no progress" on several outstanding nuclear issues.
These include reinstalling IAEA monitoring cameras Tehran had removed from its nuclear sites, or explaining the presence of uranium particles found in Iran.
The IAEA has long sought answers from Iran about two sites near Tehran that inspectors say bore traces of man-made uranium.
The sites have been identified as as Turquzabad and Varamin, just outside of Tehran.
At Varamin, the IAEA in a March report said that inspectors believe Iran used the site from 1999 until 2003 as a pilot project to process uranium ore and convert it into a gas form, which then can be enriched through spinning in a centrifuge. The IAEA said buildings at the site had been demolished in 2004.
Turquzabad was identified by Prime Minister Benjamin Netanyahu during his address before the UN General Assembly in 2018 as a "secret atomic warehouse."
The IAEA said in a report this past May it no longer had questions about a third questioned site called Marivan near Abadeh in southern Iran.
In July, Iran said it gave new details to the United Nations about the two sites in question.
Grossi said on Monday he had noticed a "decrease in interest" from IAEA member states, without naming them.
"There is a certain routinization of what is going on there (in Iran) and I am concerned about this, because the issues are as valid today as they were before," he told reporters on the first day of the IAEA board of governors' meeting in Vienna, as quoted by AFP.
Diplomatic sources say the United States and the so-called E3 group -- France, Germany and the United Kingdom -- have no plan this week to censure Iran for its lack of cooperation with the IAEA.
Instead, at the behest of Washington, they will submit a joint declaration to the IAEA board meeting, which is expected to gain broad support, a source told AFP.
Grossi in his remarks on Monday also commented on the prisoner exchange deal between Iran and the United States, which includes the release of five US citizens held in Tehran and several Iranians detained in the US.
"We are aware that there is a bilateral process of sorts. We have been informed by the United States about this. But when it comes to the nuclear part, (it is) not clear what is being discussed," Grossi stressed.
"There are many pressing issues on the international agenda but I think it is important to continue to support the agency in its work," he continued.
There has been speculation that the prisoner swap deal would lead to a new nuclear agreement between the US and Iran, after then-US President Donald Trump withdrew from the 2015 deal signed between Iran and world powers and reimposed sanctions on Tehran.
Iran responded to Trump's withdrawal from the 2015 nuclear deal by scaling back its compliance with the agreement. The Biden administration, however, sought to return to the deal and held indirect talks with Iran on a return to compliance.
While the talks were stalled in September after the sides failed to reach an agreement on IAEA probes of Iran's nuclear activities, reports a few months ago indicated that the US and Iran held indirect talks on a new agreement.
Later, US Secretary of State Antony Blinken denied that an agreement had been reached between the Biden administration and the Iranian government on Iran's nuclear program.
"There is no agreement in the offing, even as we continue to be willing to explore diplomatic paths," Blinken said.