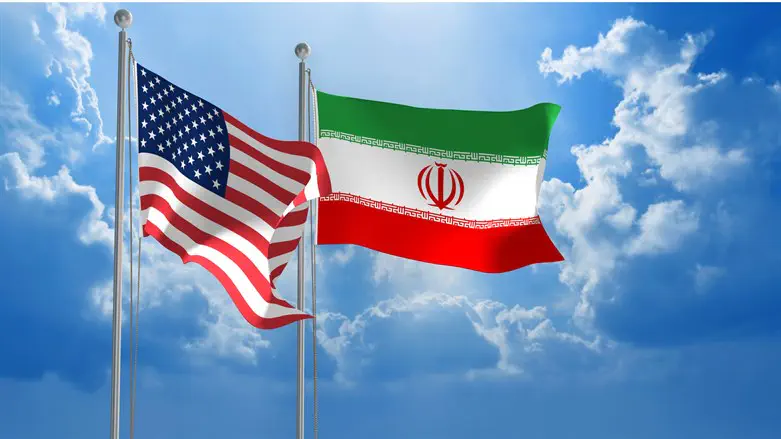 American and Iranian flags
iStock
The Biden administration has cleared the way for the release of five American citizens detained in Iran by issuing a blanket waiver for international banks to transfer $6 billion in frozen Iranian money from South Korea to Qatar without fear of US sanctions, The Associated Press reported Monday.
In addition, as part of the deal, the administration has agreed to release five Iranian citizens held in the United States, the news agency said.
The deal was agreed upon last month and, as a first step, Iran at the time released four US citizens from Tehran's Evin prison into house arrest, where they joined a fifth, who was already under house arrest.
Secretary of State Antony Blinken signed off on the sanctions waivers late last week, but Congress was not informed of the waiver decision until Monday, according to the notification, which was obtained by The Associated Press.
The outlines of the deal had been previously announced and the waiver was expected, but the notification marked the first time the administration said it was releasing five Iranian prisoners as part of the deal. The prisoners have not been named.
The waiver means that European, Middle Eastern and Asian banks will not run afoul of US sanctions in converting the money frozen in South Korea and transferring it to Qatar's central bank, where it will be held for Iran to use for the purchase of humanitarian goods.
The transfer of the $6 billion was the critical element in the prisoner release deal, which saw four of the five American detainees transferred from Iranian jails into house arrest last month. The fifth detainee had already been under house arrest.
People familiar with negotiations said they expect the detainees will be released as early as next week.
The American prisoners include Siamak Namazi, who was detained in 2015 and was later sentenced to 10 years in prison on internationally criticized spying charges; Emad Sharghi, a venture capitalist sentenced to 10 years; and Morad Tahbaz, a British-American conservationist of Iranian descent who was arrested in 2018 and also received a 10-year sentence. The fourth and fifth prisoners were not identified.
White House National Security spokesperson John Kirby offered caution about the deal soon after it was announced, saying that "the deal is not done" and that active discussions on how to bring home the five Americans are taking place.