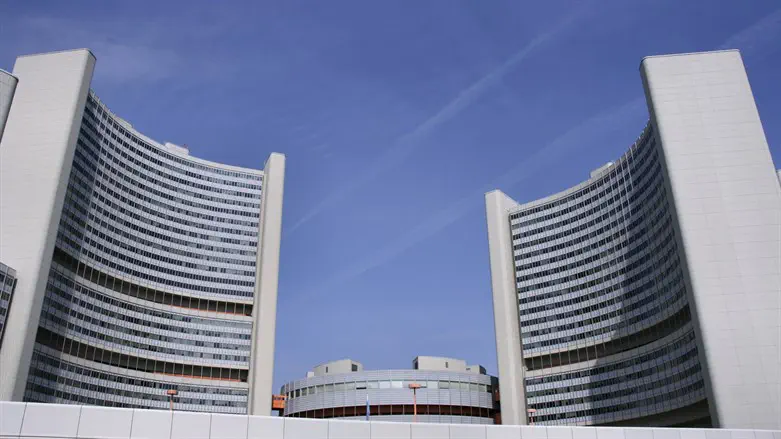 IAEA headquarters
iStock
Iran has resolved two outstanding inquiries from the International Atomic Energy Agency over highly enriched uranium particles and a site where man-made uranium was found, according to confidential reports seen on Wednesday by The Associated Press.
The two confidential quarterly reports by the Vienna-based IAEA, distributed to member states of the organization, said inspectors no longer had questions on uranium particles found to be enriched to 83.7% at its underground Fordow facility.
Iran had argued those particles were a byproduct of its current enrichment as particles can reach higher enrichment levels in fluctuations.
"The agency informed Iran that, following its evaluation of the data, the agency had assessed that the information provided was not inconsistent with Iran's explanation ... and that the agency had no further questions on this matter at this stage," the reports said, according to AP.
The report said investigators also have closed off their investigation of traces of man-made uranium found at Marivan, near the city of Abadeh, some 525 kilometers southeast of Tehran.
Analysts had repeatedly linked Marivan to Iran's secret military nuclear program and accused Iran of conducting high-explosives tests there in the early 2000s.
The IAEA reports also referenced that "Iran conducted explosive experiments with protective shielding in preparation for the use of neutron detectors and nuclear material" at the site.
Iran had argued the uranium traces could have come from "laboratory instruments and equipment" used by miners at the site. The IAEA called the answer "a possible explanation."
Iran and the IAEA have previously clashed over the agency's probe into man-made uranium particles found at three undeclared sites in the country.
Rafael Grossi, head of the UN's nuclear watchdog, visited Tehran following the March report on the uranium enriched to 83.7% at Fordow. While there, he received assurances from Iran that surveillance cameras at several nuclear sites would be reconnected and the pace of inspections increased.
The latest reports come as tensions between Iran and the West have escalated over its nuclear program.
The 2015 nuclear deal between Iran and world powers hit a snag in 2018, when then-US President Donald Trump pulled out of the deal and reimposed sanctions on Iran.
Iran, in turn, began to scale back its compliance with the deal.
President Joe Biden has sought to revive the deal, but those efforts have been stalled since September.
At that time, Iran submitted a response to a European Union proposal to revive the deal. A senior Biden administration official said the Iranian response "is not at all encouraging." A US official later said that the efforts to revive the 2015 Iran nuclear deal have "hit a wall" because of Iran's insistence on the closure of the UN nuclear watchdog's investigations.