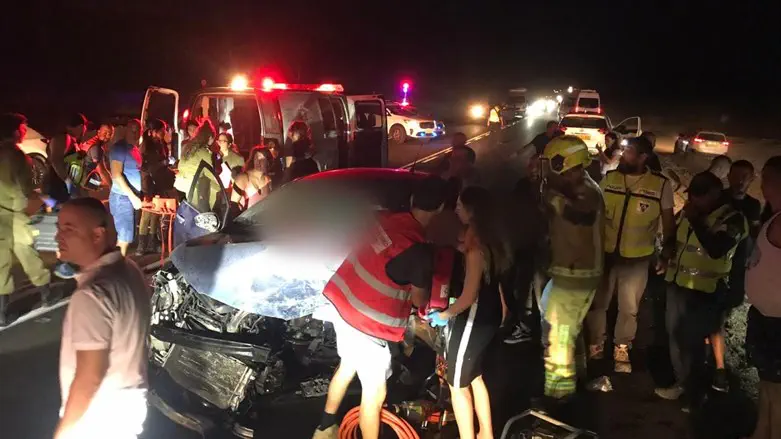 Traffic accident (illustrative)
Magen David Adom
Rafael Nahari, a 30-year-old resident of Herzliya, was killed Tuesday night in a lethal traffic accident as he rode his motorcycle on Route 4613 near Bnei Atarot.
Nahari volunteered in both Magen David Adom (MDA) and ZAKA in Tel Aviv. He is survived by his wife and a two-month-old son who was born after years of waiting.
First responders arriving at the scene of the accident attempted to resuscitate Nahari, and evacuated him to a nearby hospital. However, despite their best efforts, the medical team was forced to declare Nahari's death.
The driver of the vehicle which hit Nahari, a resident of Beitar Illit, suffered light injuries. Another motorcycle rider was lightly injured in the collision.
MDA paramedics Michal Baspalchik and Fadi Hamda'an said, "When we arrived at the scene, we saw a very difficult traffic accident between a car and a motorcycle. We saw the motorcycle crushed, and a few meters away from it an injured man of about 30 lay on the road, unconscious, without a pulse, and not breathing, and suffering multisystem injuries."
"We immediately worked to resuscitate him, and we placed him in a mobile ICU belonging to MDA and evacuated him to the hospital, while continuing resuscitation attempts. The second [motorcycle] rider, a man of about 45, was in light condition and suffered an injury to his spine, and the driver of the car, who had also suffered a light injury, were treated at the scene and evacuated to the hospital in an MDA ambulance."
ZAKA Tel Aviv said, "We are shocked and horrified at the tragic death of our friend and dear volunteer Rafael Nahari of the Herzliya staff, who was killed in a lethal traffic accident. Just last night he was occupied with true kindness, in an incident in Herzliya."
"We send our condolences to his dear family and to all his friends and acquaintances. This week's acts of true kindness are dedicated in his memory. The deceased is survived by his wife and firstborn infant, two months old, who was born after many years of waiting."
"True kindness" is a term used in Judaism for work with corpses. It is considered "true kindness" due to the fact that it is done with the knowledge that the deceased can never repay the act of kindness.
Israel Police said, "Traffic investigators in the Sharon region opened an investigation upon receiving a report of a traffic accident involving a private vehicle and a motorcycle, in which motorcycle riders were injured seriously and lightly and evacuated to the Tel Hashomer Medical Center. At the same time, the driver of the vehicle was lightly injured and evacuated to Beilinson Hospital in Petah Tikva."