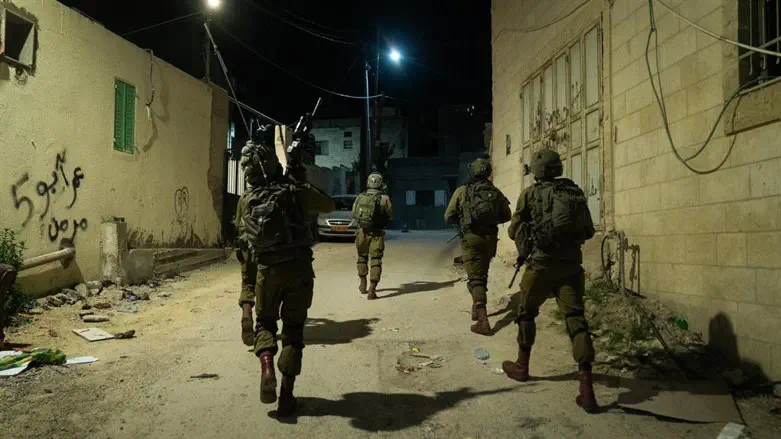 IDF soldiers operating in Judea and Samaria
IDF Spokesperson
In the early hours of Thursday morning, IDF, ISA, and Israel Border Police forces conducted counter-terrorism activities in a number of locations in Judea and Samaria, including in the towns of Harmala, Al-Eizariya, Wadi Al Far'a, and the city of Hebron.
During counterterrorism activity in the Jenin refugee camp, armed Palestinian gunmen opened fire at security forces, who responded with live fire. Hits were identified. Explosive devices were also hurled at Israeli forces. Soldiers apprehended one wanted individual suspected of involvement in terrorist activity and confiscated an M16 rifle, rifle components, military equipment, explosive materials, and ammunition.
An IDF soldier was lightly injured during the operation and evacuated to hospital for further medical treatment. His family has been notified.
IDF soldiers also operated in the towns of Shuyukh Al 'arrub and Beit Ummar, apprehending two suspects in each location. In the town of T'koa, soldiers detained one wanted suspect.
Soldiers also operated in the town of Yata where they apprehended one wanted suspect. During an operation in the town of Khirbet Carmel, a "Carlo" gun was located. Soldiers also operated in the town of Rujeib and apprehended two suspects, and in the town of Tamun where they apprehended one suspect. The suspects and confiscated weapons were transferred to security forces for further processing.