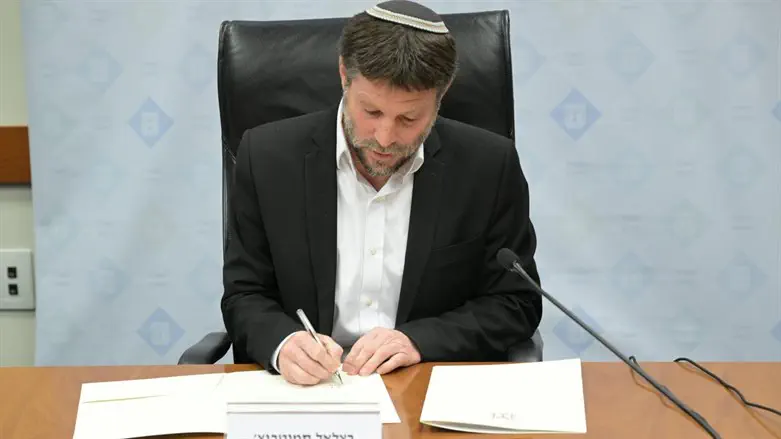 Smotrich signs order offsetting PA tax funds
Shlomi Amsalem/GPO
Palestinian Authority (PA) cabinet leader Mohammad Shtayyeh described the offsetting of PA tax money by Israel as a measure designed to limit the PA and bring it to the brink of economic collapse that will harm its ability to provide services to the public.
Shtayyeh was responding to Finance Minister Bezalel Smotrich's directive from Sunday to offset the tax money Israel collects on behalf of the Palestinian Authority and transfer it to the families of terror victims.
In remarks at a cabinet meeting on Monday, Shtayyeh said that the Israeli move, which he called "piracy", "extortion" and "revenge", will fail because the "Palestinian people" and its leadership will not deviate from the political, diplomatic and legal fight for the realization of their rights.
"The total deductions related to the allocations of prisoners and (the families of) the martyrs amounted to about two billion shekels from the beginning of 2019 to the end of 2022, and the deductions related to health, electricity, water, etc. are around 1.6 billion shekels in 2022 alone," he said.
Shtayyeh stated that, in his view these, moves by Israel are considered a new war against the "Palestinian people" and against the Palestinian Authority, and they have targeted the entire Palestinian national enterprise.
On the political issue, he said that the PA is coordinating its moves regarding Jerusalem and the Al-Aqsa Mosque with the Kingdom of Jordan and the issue will be raised at a UN Security Council meeting on January 18.