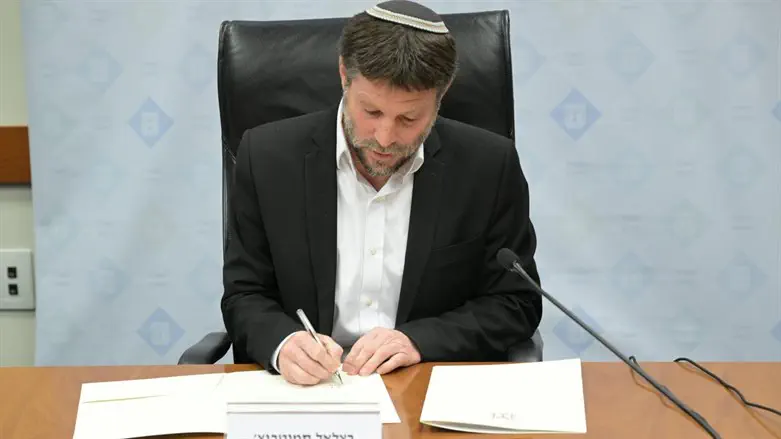 Bezalel Smotrich signing the offset order
Shlomi Amsalem/GPO
Finance Minister Bezalel Smotrich announced the offset of funding transferred to the Palestinian Authority and its reappropriation to families of terror victims.
"We promised to amend, and today we are amending. There is no bigger justice than offsetting. This is not condolence, but this is justice," stated Smotrich.
To Israel National News' question on whether the minister consulted with legal bodies before making the decision, Smotrich answered: "Over eight months ago, the court ordered the previous government to offset the funding to pay the victims' reparations. The previous government scoffed at the ruling and refused to fulfill it. We are upholding it, and that's the natural and desirable thing to do."
Concerning the worry that the move may weaken the Palestinian Authority and strengthen Hamas, the minister stated: "The Palestinian Authority has to decide if it wants to exist and stop promoting terrorism or to stop existing. There's no way that, on the one hand, the PA is a partner, and on the other, it promotes the murder of Israeli citizens."
The offset was due to a lawsuit in the United States, which obligated the Palestinian Authority to pay reparations to terror victims. The Finance Minister believes that more lawsuits are coming. "I believe that our decision will leave an opening for additional suits, it is in my authority, but it is coordinated with the Prime Minister and the cabinet. The United States has a law that requires the Americans to reduce their funding of the PA. That's trivial.
Ron Alone, the son of terror victim Noa Alon, stated: "This is a historic day. This is a warning to terrorists and the Palestinian Authority."
The bereaved father, Herzel Hajaj, added: "Smotrich worked without blinking. That's how you fight and prevent terror." His wife Merav stated: "No money in the world can bring our children back, but we want justice."