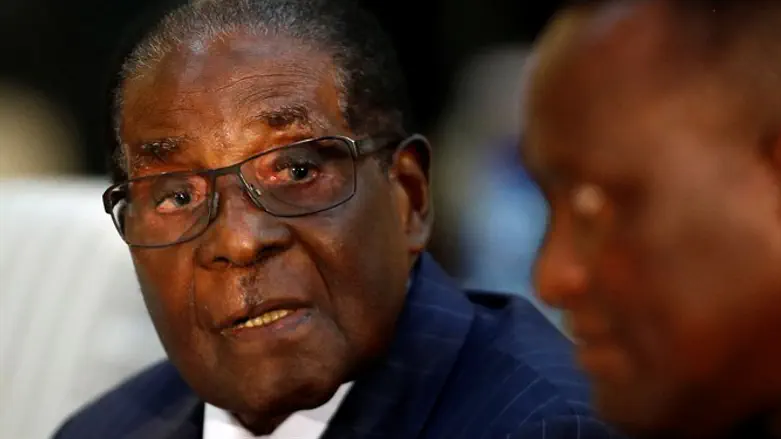 Robert Mugabe
Reuters
Robert Mugabe clung on as Zimbabwe's president Sunday, insisting on national TV he still holds power despite a military takeover.
Crowds who gathered in bars and cafes in Harare to watch the address, which was widely expected would end in the 93-year-old's resignation, were left stunned and disconsolate, reported AFP. Some wept openly.
"The (ruling ZANU-PF) party congress is due in a few weeks and I will preside over its processes," Mugabe said in his speech, implying he will seek to stay in office until at least mid-December.
It was widely thought that Mugabe would have no choice but to step down after the army seized power last week and party told him to quit.
Mugabe, sitting alongside the uniformed generals who were behind the military intervention, delivered a speech that suggested he was unfazed by the turmoil.
Speaking slowly and occasionally stumbling as he read from the pages, Mugabe talked of the need for solidarity to resolve national problems.
He made no reference to the chorus calling for him to resign and shrugged off last week's dramatic military intervention.
"The operation I have alluded to did not amount to a threat to our well-cherished constitutional order nor did it challenge my authority as head of state, not even as commander in chief," he said, according to AFP.
"Whatever the pros and cons of how they (the army) went about their operation, I... do acknowledge their concerns," added Mugabe.
"We must learn to forgive and resolve contradictions, real or perceived, in a comradely Zimbabwean spirit," he continued.
On Saturday, in scenes of public elation not seen since Zimbabwe's independence in 1980, huge crowds had marched and sang their way through Harare, believing Mugabe was about to step down.
Highlighting the chaos engulfing Zimbabwean politics, the ruling ZANU-PF party sacked Mugabe as its leader earlier on Sunday and told him to resign as head of state, naming ousted vice president Emmerson Mnangagwa as the new party chief.
It warned that the party would seek to impeach him if he did not go by 1000 GMT on Monday.
Sources suggest Mugabe has been battling to delay his exit and to secure a deal guaranteeing future protection for him and his family, noted AFP.