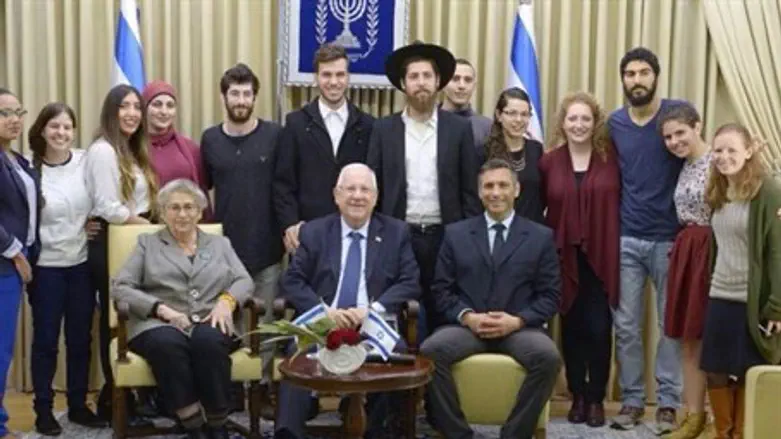 Second group of My Israeli Brother project
President's Office
My Israeli Brother is one of a number of projects run by the Hinam Organization aimed at promoting meaningful encounters between people from different sectors within Israeli society.
By "stepping into someone else's shoes," Hinam believes that people will learn to live together, share the same space and promote tolerance and understanding in society.
Thus, the second groups partaking in the project have begun their four-month journey in Tzfat (Safed.) The group is composed of thirteen young adults ranging from the ages of 18 to 27.
Maintaining the project's goal, the diverse group includes members of the widest possible spectrum of Israeli society: a religious Arab girl; a non-religious Arab boy; a Russian new immigrant; secular Jews; religious Jews and one foreign exchange student from Austria.
Their group will spend one month in the haredi community of Tzfat's old city, then they will spend one month in Ofra in Judea and Samaria, one month in the Arab village Dir El As, and the last month in the Ethiopian neighborhood in Kiryat Moshe in Rehovot.

Team members will live the daily routine in their host communities and engage in volunteer work while exploring questions of identity, culture and religion, with the emphasis on significant Jewish-Arab relations and familiarity with the language, religion and culture of the two identities.
"Only a long term significant acquaintance with each other can dispel fears and promote a tolerant society. This summer will see the launch of the Mechina (educational program) of My Israeli Brother, the first traveling Mechina in the country, with members living in a different community each month," said Yaron Kenner, the director of the Center.
"We hope that the model of My Israeli Brother will soon be replicated in many frameworks such as summer camps and national service and continue to broaden its impact on Israeli society."