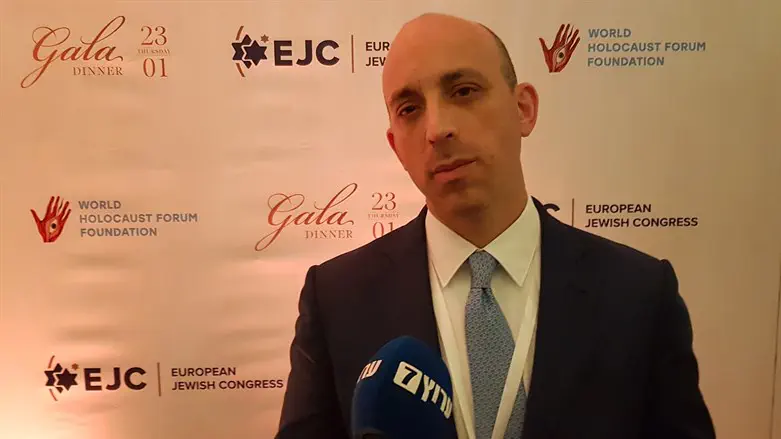 Jonathan Greenblatt, CEO and National Director of ADL
Yoni Kempinski
Anti-Defamation League (ADL) CEO Jonathan Greenblatt on Tuesday issued his first public comments on X chairman Elon Musk's campaign against his organization which culminated in Musk threatening a defamation lawsuit.
"It is profoundly disturbing that Elon Musk spent the weekend engaging with a highly toxic antisemitic campaign on his platform — a campaign started by an unrepentant bigot that then was heavily promoted by individuals such as white supremacist Nick Fuentes, Christian nationalist Andrew Torba, conspiracy theorist Alex Jones and others," Greenblatt said in a statement quoted by Haaretz.
Greenblatt noted that the campaign "manifested in the real world when masked men marched in Florida on Saturday brazenly waving flags adorned with swastikas and chanting 'Ban the ADL.'"
"But to be clear, the real issue is neither ADL nor the threat of a frivolous lawsuit. This urgent matter is the safety of the Jewish people in the face of increasing, intensifying antisemitism," he continued.
The ADL CEO charged Musk with engaging with and elevating these antisemites at a time of unprecedented spikes in antisemitism targeting Jewish institutions and private residential communities.
"And so, this behavior is not just alarming nor reckless. It is flat out dangerous and deeply irresponsible. We need responsible leaders to lead, to stop inflaming hatred and to step back from the brink before it's too late," Greenblatt added.
Musk's threat to file a defamation lawsuit against the ADL came several days after he suggested holding a poll on X asking users whether to ban the ADL from the platform.
Musk had earlier "liked" the tweet launching the hashtag #BanTheADL by Keith Woods, an Irish white nationalist and self-described "raging antisemite."
His reasoning for a lawsuit against ADL is that the organization is responsible for lost revenue since his acquisition of the social media platform.
The ADL has criticized Musk but also has sought to accommodate some of his requests, including issuing a condemnation last month of an Apartheid-era fight song calling to kill white farmers. Musk, who is a native South African, claimed the song supports anti-white hate.
In May, Musk clashed with the ADL after it took him to task for echoing antisemitic tropes in his attack on George Soros.
Musk noted on Monday that X's advertising revenue remains down by 60% in the US and alleged that advertisers have told the social media platform that pressure from the ADL is part of that decision.
The X CEO recently acknowledged that the social media company was losing cash because advertising has dropped by half.