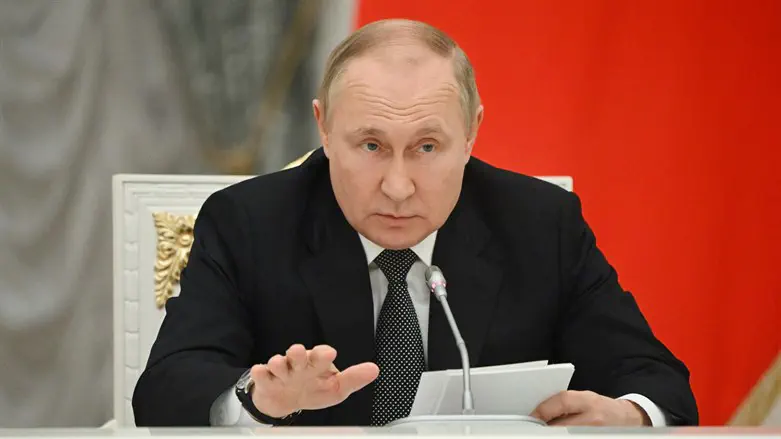 Vladimir Putin
Reuters
Russian President Vladimir Putin on Tuesday claimed that Western powers had installed Ukrainian President Volodymyr Zelenskyy, who is Jewish, as President of Ukraine in an attempt "to cover up the glorification of Nazism".
"Western curators have put a person at the head of modern Ukraine - an ethnic Jew, with Jewish roots, with Jewish origins. And thus, in my opinion, they seem to be covering up an anti-human essence that is the foundation ... of the modern Ukrainian state," Putin told Russian television reporter Pavel Zarubin in an interview, as quoted by Reuters.
"And this makes the whole situation extremely disgusting, in that an ethnic Jew is covering up the glorification of Nazism and covering up those who led the Holocaust in Ukraine at one time - and this is the extermination of one and a half million people," he added.
Asked to comment, Ukrainian presidential adviser Mykhailo Podolyak said Putin himself was disgusting "when he tries to justify mass crimes against citizens of another country with a monstrous lie."
This is not the first time that Russian leaders have made controversial comments about Zelenskyy and his Jewish beliefs.
Russian Foreign Minister Sergei Lavrov came under fire last May when he said that Nazi leader Adolf Hitler had Jewish blood.
In an interview with an Italian news channel, Lavrov referred to the fact that Zelenskyy is Jewish and said, "In my opinion, Hitler also had Jewish origins, so it doesn't mean absolutely anything. For some time we have heard from the Jewish people that the biggest antisemites were Jewish."
Zelenskyy said in response that Lavrov's comments show that Moscow "has forgotten all the lessons of World War II or perhaps never learned them."
In June, Putin lashed out at the Ukrainian President and claimed that "Zelenskyy is not even Jewish" when asked at a conference why he continues to call Zelenskyy a "Nazi".
"I have many Jewish friends since childhood. They say Zelenskyy is not a Jew – he is a disgrace to the Jewish people," the Russian President responded.
Zelenskyy later fired back at Putin, telling the BBC in an interview, "It's like he doesn't fully understand his words. Apologies, but it's like he is the second king of antisemitism after Hitler."
"This is a president speaking. A civilized world cannot speak that way. But it was important for me to hear the reaction of the world and I am grateful for the support," he added.
Moscow has repeatedly sought to frame its invasion of Ukraine as an effort to "denazify" the country.