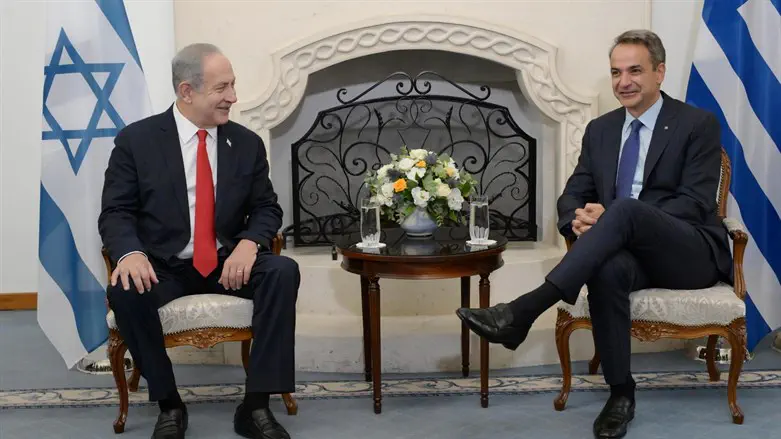 PM Netanyahu (L) and Greek PM Kyriakos Mitsotakis (R)
Amos Ben-Gershom (GPO)
Israeli Prime Minister Benjamin Netanyahu on Monday morning met with Greek Prime Minister Kyriakos Mitsotakis at the Presidential Palace in Nicosia.
The two leaders first met privately and afterward held an expanded meeting.
Prime Minister Netanyahu noted the deep ties between Israel and Greece, which have expanded in recent years to many areas, including dealing with the climate crisis, in which Israel has assisted in the fight against the wildfires that ravaged Greece in July. The Prime Minister emphasized that the two countries must strengthen their cooperation in this area.
The two sides also discussed cooperation in security, artificial intelligence, energy and food.
Prime Minister Netanyahu also raised the potential of expanding the Abraham Accords, which would facilitate an energy and infrastructure link between the Arabian Peninsula, Israel, Cyprus, Greece, and the rest of Europe.
Prime Minister Netanyahu thanked his Greek counterpart for the Greek security services' assistance in thwarting an attempted Iranian terrorist attack against Israelis on its territory, and emphasized the importance of cooperation against Iranian aggression.
Participating from the Israeli side were the Prime Minister's Chief of Staff, the Director of the National Security Council, the Director General of the Prime Minister's Office, the Prime Minister's Military Secretary, the Director of the National Economic Council, the Head of the National Public Diplomacy Directorate, the Prime Minister's Foreign Policy Adviser, the Prime Minister's Spokesperson and the Israeli Ambassador to Greece. Participating from the Greek side were the Deputy Foreign Minister, the Greek Ambassador to Israel, the National Security Adviser and additional officials.