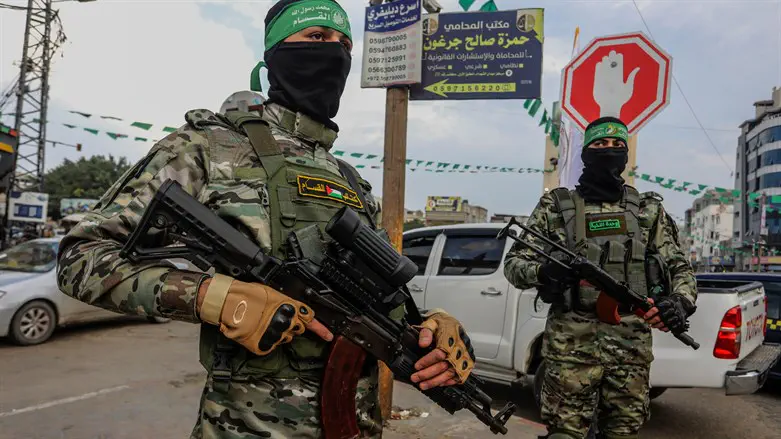 Hamas terrorists in the Gaza Strip
Abed Rahim Khatib/Flash 90
Hazem Qassem, an official spokesman for the Hamas terrorist organization, said on Thursday that talks are currently being held with mediators, in particular Egypt, Qatar and the United Nations, in an attempt to calm the security tensions between Israel and the Palestinian Arabs.
His comments were in reference to reports in recent days about discussions in Israel regarding the possibility of eliminating senior officials in the military branches of the Palestinian Arab terrorist organizations in response to the wave of terrorism.
In an interview with the Hamas-affiliated Shehab news agency, Qassem stated that "the Israeli threats of elimination operations do not frighten Hamas or the other Palestinian organizations, and they will continue the fight in Judea and Samaria, in Gaza and everywhere, since the enemy will not be able to force us to withdraw from this position."
Qassem stated that Hamas takes the Israeli threats very seriously and is taking precautionary measures in the field without harming the routine of life in the Gaza Strip.
He pointed out that "Israel is unable to prevent the increasing attacks all over the West Bank and therefore it is resorting to the language of threats."
In a message to Israel, Qassem stressed that if "the enemy commits a stupid act of eliminating senior Palestinian officials in Gaza or outside Palestine, then there will be an unprecedented response against Israel. In any case, the situation may come to an explosion at any time because of Israeli policy, and in particular towards the Palestinian security prisoners."