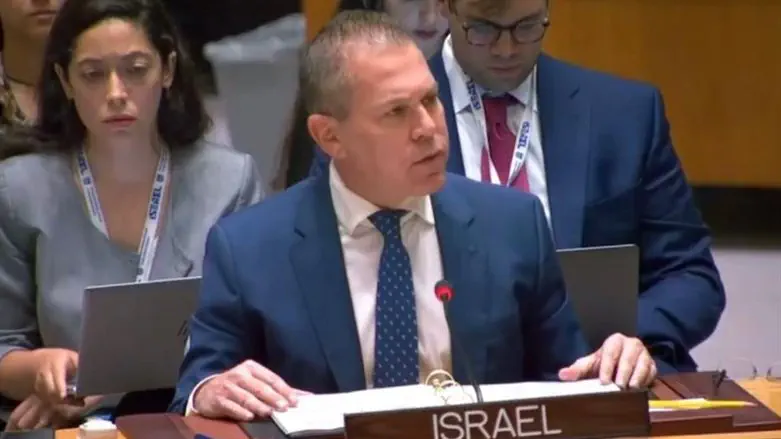 Gilad Erdan at the UN Security Council
Erdan's office
Late last week, Israel's Ambassador to the United Nations Gilad Erdan submitted a letter of complaint against Lebanon to the UN Security Council.
In the letter, the Ambassador detailed Hezbollah's latest provocations at the border between Israel and Lebanon which constitute a blatant violation of Security Council Resolution 1701, including the crossing of the border by Lebanese infiltrators, one of whom is a member of the Lebanese parliament, and the establishment of military posts under the guise of the "Green Without Borders" organization.
Ambassador Erdan made clear in the letter that the tensions on the northern border are as high as they have been in many years and that if there is no immediate action by the Lebanese government and UNIFIL against Hezbollah's continued actions on the border, "the situation on the ground will continue to deteriorate and the consequences will be far-reaching and disastrous."
On Thursday, Erdan told the Security Council, "Over the past years, Jenin – and its 'refugee camp' in particular…has become a hotbed for terrorist activity. It is a place ruled by designated terror organizations such as Hamas and Islamic Jihad. It is where so many of the recent deadly terror attacks – over 50 – were planned and carried out from, and it is a city of refuge for terrorists on the run."
He added, "Let me be clear: there is no 'right of return.' You all know this. The demand of returning millions of descendants of refugees is a demand to obliterate the Jewish people's right to self- determination, and this will never happen."