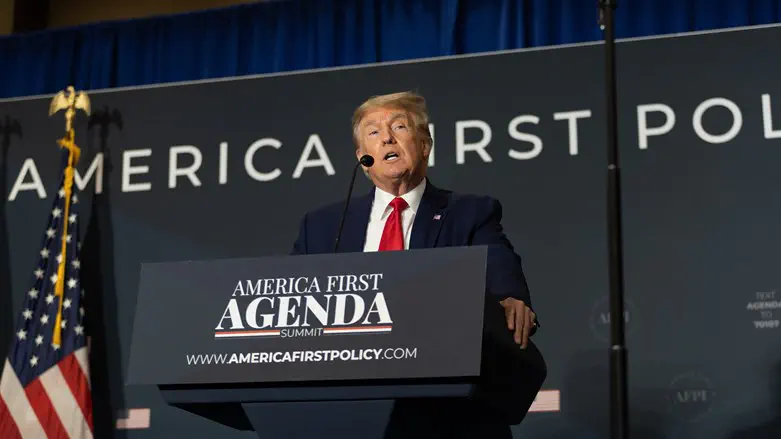 Donald Trump
Reuters
Former US President Donald Trump's support appears to have softened following his indictment and arrest on federal charges, but he still leads the Republican field by a wide margin, according to a new CNN poll conducted by SSRS and released on Tuesday.
Though Trump continues to lead the GOP field by a wide margin in the race for the Republican Party's nomination for president, the poll suggests that his support has declined, as have positive views of him among Republican and Republican-leaning voters.
Nearly a quarter now say they would not consider backing his candidacy under any circumstances. The survey also finds that those GOP-aligned voters not currently backing his 2024 bid have different views on his indictment and behavior than those in his corner.
Overall, however, 47% of Republicans and Republican-leaning registered voters say Trump is their first choice for the party's nomination for president.
While that number is down from 53% in a May CNN poll, Trump still leads Florida Gov. Ron DeSantis, who held steady at 26% in the latest poll.
Former Vice President Mike Pence polled at 9%, former United Nations Ambassador Nikki Haley at 5%, South Carolina Sen. Tim Scott at 4%, former New Jersey Gov. Chris Christie at 3% and the remaining candidates at 1% or less.
In addition to the decline in support for Trump's candidacy, his favorability rating among Republican-aligned voters has dipped, from 77% in May to 67% now, while the share who say they would not support him for the nomination under any circumstances has climbed, from 16% in May to 23% now.
At the same time, there has been a similar increase in the share saying they would not back DeSantis under any circumstances (up 6 points to 21%), while the shares ruling out other top candidates have held roughly steady.
The poll was completed entirely after Trump's arraignment in federal court last week in the classified documents case.
A Reuters/Ipsos poll released last week found that Trump remains far ahead in the race for the Republican presidential nomination despite the latest indictment against him.
Some 43% of self-identified Republicans said Trump was their preferred candidate, compared to 22% who picked DeSantis.
A new NPR/Marist University national poll released over the weekend found that most Republicans want Trump to stay in the 2024 presidential race despite the latest federal charges.
83% of Republicans who participated in the poll said that Trump should continue running. In terms of all the voters in the poll, 43% of all voters say he should run and 56% say he shouldn't.
87% Democrat voters say Trump leave the race and 58% independents voters support that move as well.