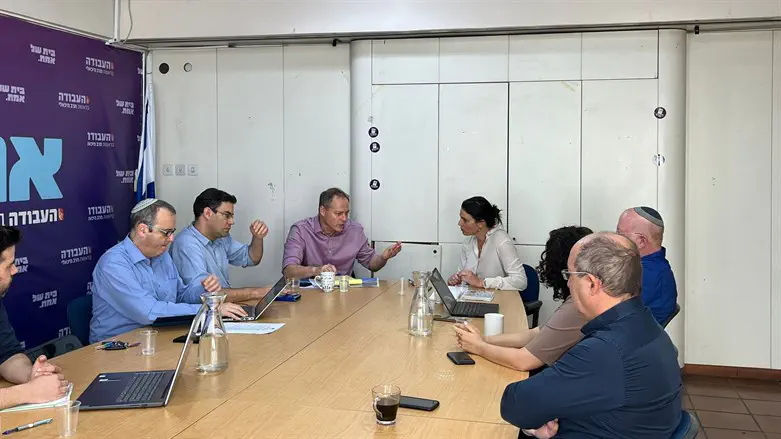 Labor negotiating team meets head of the Israel Democracy Institute
no credit
The Labor party's negotiating team announced this afternoon (Sunday) that it is withdrawing from the negotiations on the judicial reform issue at the President's Residence, claiming that there is "no partner" on the other side.
The announcement does not affect the negotiations on the ground, as so far only the negotiating teams of the National Unity and Yesh Atid parties have actually sat down with representatives of the coalition.
The Labor representatives said in a letter that "despite the great doubts we have expressed all along about the willingness of the government and the coalition to formulate agreements which broad national consensus, we chose to join the negotiation process at the President's Residence, out of a deep concern, a sense of national responsibility and a desire to find agreed-upon solutions to the approaching constitutional crisis that could change the democratic regime in Israel."
"Despite all of this, we are learning about conversations that are held in the dark, and even about agreements between the parties which are being made far from the public eye, without our involvement, which raises the fear of harm to the negotiating process and even Israeli democracy. These things are not in line with the clear positions we have demonstrated all along regarding our red lines that should not be crossed and the principled positions on which it is not possible to compromise," the party added.
They further stated that "the international rating agency, Moody's, in an unusually move is giving a commendation to the civil society in Israel that is fighting for democracy, alongside a warning about the low chances of reaching an honest compromise due to the continued conduct and statements of the government, conduct that will harm Israel's economy. That same coalition went even further when the member of the government, Minister Amsalem, scandalously called for the presidents of the Supreme Court, past and present, to be prosecuted, as part of a reckless campaign of incitement against the judiciary in Israel, which they want to destroy to the core."
"In view of these patterns of conduct, there is no point in continuing our attempt to participate in the talks held at the President's Residence and we announce the withdrawal of our participation in the negotiation process. The Labor faction will continue to fight for Israeli democracy in the Knesset, on the streets, in protests, in the media and in any other arena, together with the Israeli public. We will carefully follow the negotiations, while maintaining our demand for transparency and standing firm on the red lines of Israeli democracy," argued the Labor Party.