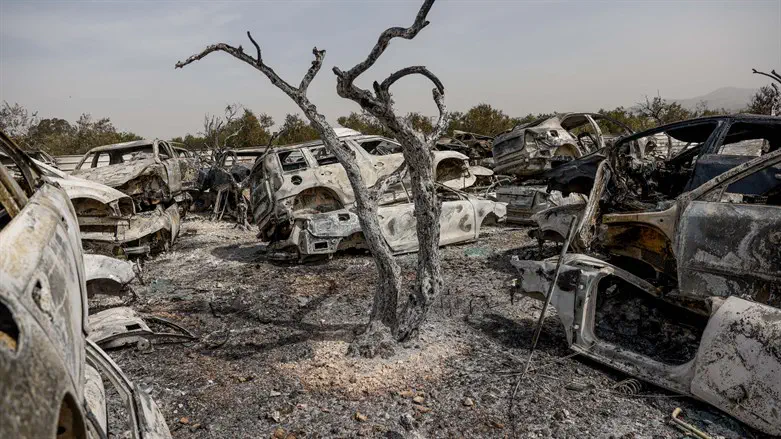 Damage done by rioters in Huwara
Erik Marmor/Flash90
Left-wing activist Yaya Fink, who is religious, initiated a crowdfunding drive for the residents of the Samaria city of Huwara, and caused a stir after he told today (Tuesday) how he would distribute the donation money to families whose property was damaged by Jewish rioters in the city on the night of the attack.
Yael Shevah contacted Fink on Twitter and asked him: "I'm interested in how you will transfer the money to the families. Have you talked to them? Do you know who they are? Do you have a list of their destroyed property? Or will you just go to the scene of the attack and scatter dollars around?"
So far the campaign has reached the amount of over one million three hundred thousand shekels.
In response, he replied that there are two former senior members of the ISA IIsrael Security Authority) and the Civil Administration who are mapping the damage and checking that those to recurve compensation have no security background. "Then we will take the bank account number and the money will be transferred to them," Fink wrote on Twitter.
The chairwoman of the 'My Israel' movement Sarah Hatzani-Cohen wondered: "Do the 'former' senior officials in the ISA and the Civil Administration have access to current intelligence? It is appropriate to ask whether anyone in the ISA and the Civil Administration passes intelligence materials to former employees of the organizations?"
Many on the network, including leftists, were outraged that the ISA is being allowed to determine who receives funds.
In the explanation for the campaign, Fink claimed that "it is precisely after the terrible attack that the IDF should be allowed to win and not the terrorists from the hilltops. What happened yesterday in Huwara is not a Jewish act and harms the security of the country. We will not defeat terrorism by harming innocent people and their property."