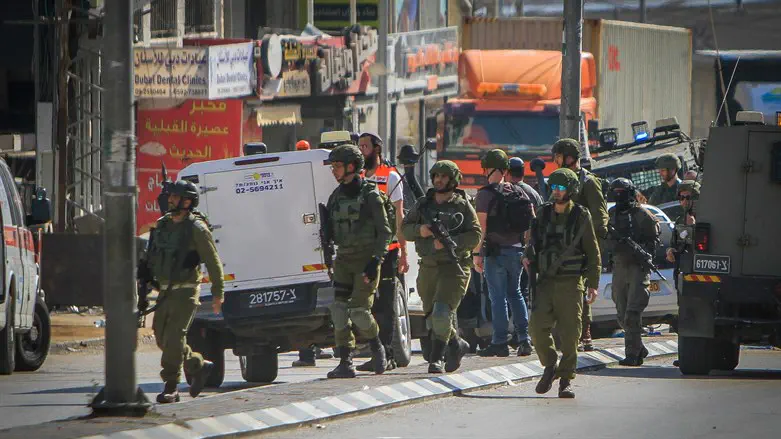 IDF soldiers at the scene of Sunday's shooting attack in Huwara
Nasser Ishtayeh/Flash90
The head of the Beit El local council, Shai Alon, happened to be passing through Huwara in Samaria Sunday afternoon and witnessed the moment a terrorist opened fire on two Jews who were sitting in their vehicle, killing them.
"I thought for sure they were shooting at me, one of the most difficult experiences I've experienced in my life," Alon told Israel National News. "The shooting happened right behind me. It looked terrible, the shooting was from point-blank," he recounted.
"You're surrounded by right and left, there's no way to leave. A terrorist shouldn't be able to easily obtain a weapon and shoot freely at point-blank in broad daylight. This is a real threat to the Jewish residents in the area," the council chief explained.
As reported, two Jews, Samaria residents, were murdered when a gunman opened fire at their car in the village of Huwara in Samaria. MDA medical teams arrived at the scene and pronounced the victims dead after resuscitation attempts together with an IDF medical team.
The terrorist arrived by car at the Einabus junction and opened fire at a passing Israeli car. IDF forces are pursuing the terrorist, who escaped the scene. Roadblocks were erected in the area.
Samaria Regional Council chairman Yossi Dagan, who was on his way to the scene, stated: "Unfortunately, this is a very serious incident, the government must change the paradigm and move from defense to offense, it cannot be that in the middle of the day, terrorists are free to shoot innocent civilians."
"The ferocity of terrorism proves that there is no deterrence. The instructions for opening fire must be changed, the checkpoints must be returned, and the terrorist infrastructure of the Palestinian Authority must be proactively degraded. The people of Israel and the residents of Samaria are strong, we will not break in the face of the murderous terrorism of the Palestinian Authority," added Dagan.