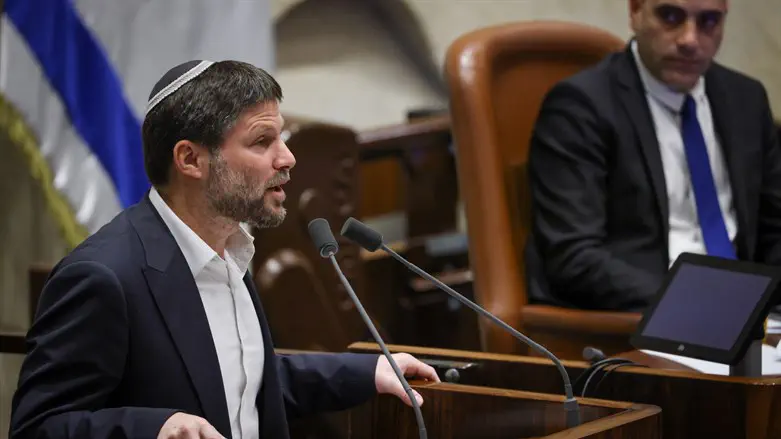 Bezalel Smotrich
Noam Moshkovitz, Knesset spokesman
My respected incoming premier, Benjamin Netanyahu, I would like to wish you good luck and Divine assistance with all my heart. You are an exceptional person with unending devotion to the State of Israel and its future, a man with enormous energy and a great mission which has been placed on your shoulders.
To the respected outgoing prime minister, to the incoming Speaker, a true friend, Amir Ohana. You are a worthy man to step into this important and challenging position, and I wish you and all of us the greatest of success.
I also address my ministerial and Knesset colleagues but most of all, I address the citizens of Israel. All of you, whether religious or secular, traditional or haredi, Muslim, Christian, or Druze, right-wing or left-wing, dwellers of city or country, those in the Negev, the Galilee, the Golan. My brothers from Tel Aviv and my brothers from Jerusalem, residents of Judea and Samaria, and I also wish to address our brothers and sisters in the Diaspora.
The Jewish People has always known how to unite in times of war, difficulty, or tragedy. I would like to commence my speech with a prayer to G-d that He should teach us, in the years ahead, how to united around the State of Israel, around our continued efforts to build this beautiful home, around the incredible miracle of our magnificent human mosaic, around our national home which was built with blood, sweat, and tears - tears of joy and yes, unfortunately, also tears of anguish - as we actualize the vision of our Prophets.
I stand here before you on this day of great trembling in holy awe as we establish a government which will serve all the citizens of Israel.
The people of Israel are wise and understand that all the campaigns conducted over the past few months that were designed only to instil fear have no truth to them. Rather, they reflect a lack of responsibility and a rift in society, and unfortunately, there are those who make a living out of such rifts.
We will serve everyone. With responsibility and out of a sense of mission to you all.
A Zionist government
During the 75 years of the State of Israel's existence, we have known how to debate, to disagree, even to spar with one another. However, we had one basic agreement which must always remain, and that is the Zionist vision that is based on the vision of our Prophets, that we would return to Zion, to our home. Today, with G-d's help, we are establishing a Jewish government, a government that will be Zionist and nationalist, which will advance this vision and build upon it, storey upon storey.
The cost of living crisis and economic policies
Today I will be entering the Finance Ministry where we have huge challenges ahead of us. When the global economy is in turmoil, in these post-coronavirus days with a world-wide crisis, with inflation and recession threatening to shake the world, we must pursue responsible policies, displaying fiscal responsibility and budget restraint, keeping our markets open and removing barriers and tariffs, policies that lead to a greater participation in the workforce in all sectors. We must pursue policies that encourage growth and which will not crush people, policies which encourage the growth of the middle class and which are also compassionate to those truly in need. We also need to make things easier for our businesses which are the catalysts for economic growth.
In the stormy sea of the global economy we will, with G-d's help, be an island of stability in which the start-up nation will continue to flourish and excel. I resolved to remain silent in these past weeks and devoted days and nights to learning from previous Finance Ministers and business leaders both in the private and the public sector, in hi-tech and in industry.
I intend to continue learning and in the coming months, I will be working together with my colleagues on the next state budget which will be a responsible budget that will be an engine of growth and development. I will also be implementing significant economic reforms which will propel Israel forward. Parallel to this I will be taking office in the Defense Ministry with responsibility over the lives of citizens living in Judea and Samaria, the cradle of our homeland.
The judiciary
I have said many times that I refuse to live even for a single day in a country that does not have a strong and independent judicial system. And this is what will be. An independent court system that will concern itself with the rights of individuals and which will be chiefly occupied with protecting the rights of the individual and far less occupied with determining the policies of the State of Israel.
I am a great believer in the model of authority and responsibility and a great believer in the Jewish People. We, your public servants, will be accountable to you who voted for us.
The changes which we wish to make will restore public confidence in the legal system and concurrently restore power to the people as well as stability to the economy and to democracy and governance in general.
We laid out our principles prior to the elections and I believe and hope that we will succeed in implementing a large proportion of them in this government.
Jewish Identity
Israeli citizens, when Shai Agnon made his speech upon being awared the Nobel prize, he said: "From out of the historic catastrophe that occurred when Titus, Emperor of Rome, destroyed Jerusalem and exiled the Jews from our land, I was born in one of the cities of our exile. However, at every moment, I always viewed myself as someone who was born in Jerusalem."
Most of us in this building merited to be born here in this land. Our grandparents were exiled from this land and for two thousand years we lived dispersed among the nations, all over the world. Both those of us who were born her and those who merited to immigrate here are living in historic and wondrous times.
Our Jewish and national identity has kept us strong for thousands of years in exile and has preserved our existence as a people before bringing us home as a people. We have returned. It is both our obligation and our privilege to continue to strengthen our rich and glorious identity. The Tanach, the "book of books," led the entire world to embrace ethical values that have spread throughout the world. We must never lose our pride in who we are and what we are or where we come from - or where we are headed.
Our Jewish identity is what gives us the right to live here and my prayer is that we should know how to deepen this identity, how to rejoice in it, ourselves and our children. This identity belongs to the entire people and we cannot afford to consign it to a dusty corner.
Not coercion, but rather love. Not an identity based on stern values but rather of a welcoming face. A Judaism rooted deeply in our heritage, which enables each and every one of us to find his place. And here too we will sometimes disagree, but we will do so like family members, out of a deep-rooted knowledge that our unity is stronger than anything.
This government received its mandate from the people, a Jewish and Zionist mandate, for settlement and for governance.
With G-d's help we will work to fulfill our democratic obligations and our mission for Israeli citizens. We will rule, lead, and continue to advance our wonderful society so that it may be a great light both for us here and for the entire world.
In Sefer Bamidbar (the Book of Numbers) there is a verse in which Bilaam describes the Jewish People: "Behold a people that rises up as a lioness, and as a lion does he lift himself up." With great Heavenly mercy, we have risen up from the ashes of our exile and built a strong and mighty country, a country whose role it is to ensure that never again will be be led like sheep to the slaughter, never again will we submit to those who seek to harm us.
Now our mission is to lead, to rule. Before I conclude, I want to thank first of all the Creator of the World for all the goodness and mercy He has extended to us. I want to thank my fellow party members and coalition colleagues, as well as Yariv Levin and attorney Michael Ravelo for the many hours they spent conducting negotiations. I want to thank the public for placing its trust in us and for supporting us, and for my family which supports me and gives me the strength to continue.
I thank the thousands of activists from all the parties who worked with all their hearts over the past year and a half and succeeded in overthrowing the previous left-wing government and achieving another victory for the national right-wing camp. And a final thank you to my wife Revital in whose merit are all my achievements.
The Jewish people arose in the Land of Israel, where our spiritual, religious and political image was shaped, where we created national and all-human cultural assets and bequeathed to the entire world the eternal "book of books." After we were exiled by force, we maintained our faith wherever we found ourselves, and never stopped praying and hoping to return to our Land to reestablish a free country.
From this historical and traditional connection, the Jews strove in every generation to return to our ancient homeland, and in recent generations we have returned in great number, with pioneers, immigrants, and soldiers flourishing here. We revived the Hebrew language, built villages and cities, and established settlements that grew and grew, seeking peace and security and bringing the blessing of progress to all the inhabitants of the land in true national independence.