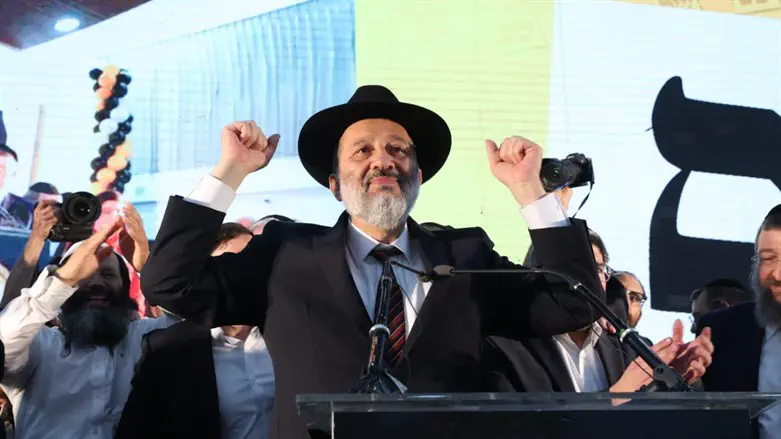 Aryeh Deri at Shas headquarters
Yaakov Cohen
The Council of Torah Sages of Shas met on Saturday at the home of council member Rabbi Moshe Maya with the participation of the President of the Council, Rabbi Shimon Baadani and party chairman Aryeh Deri.
The rabbis gathered to decide on the distribution of ministerial portfolios among party members in the new coalition, as well as on Deri taking the Finance Ministry.
The chairman of Shas provided the rabbis with a detailed review of the negotiations and the demands of the party to join the coalition led by Netanyahu and also detailed the proposed distribution of the ministerial portfolios.
At the conclusion of the meeting, the rabbis blessed Deri but did not decide on the distribution of the portfolios or about Deri receiving the Finance Ministry. The rabbis ordered Deri to continue the negotiations in order to achieve the maximum.
Earlier on Saturday night, Channel 12 News reported that MK Benjamin Netanyahu, who is expected to be tapped on Sunday to form the next government, is leaving negotiations with the Religious Zionism Party to last.
According to the channel's analyst Amit Segal, Netanyahu is hoping to force Religious Zionism's chairman, MK Bezalel Smotrich, to accept a lesser portfolio, despite the fact that his party is third-largest in the Knesset.
According to the report, Netanyahu assumes that if he signs coalition agreements with Otzma Yehudit and the haredi parties, and hands out positions within the Likud, Smotrich will not have an option other than to join the government or be blamed for bringing down the right-wing government.
In such a situation, Netanyahu would be able to offer Smotrich the Education or Transportation ministries, and possibly the Justice Ministry, if he needed to. This, however, would allow Netanyahu to avoid giving Smotrich the Finance or Defense ministries, which he has already demanded.
Netanyahu aims to have the other coalition agreements signed by Monday, after which he will approach Smotrich.