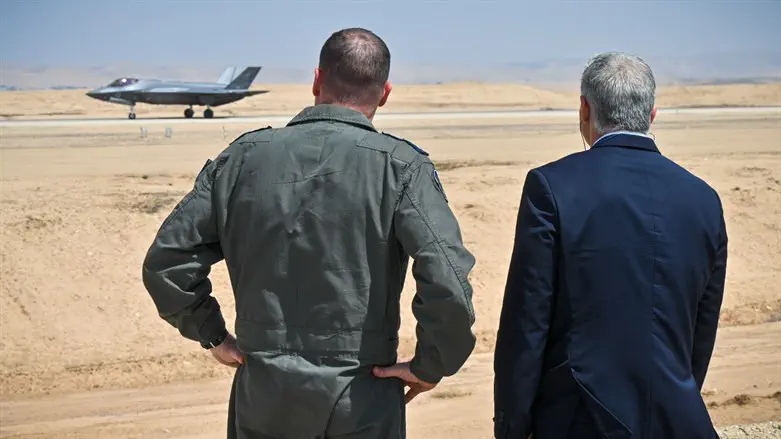 Lpaid at Nevatim Air Force Base
Kobi Gideon/GPO
Prime Minister Yair Lapid, today visited the Nevatim Air Force Base, where he received a security briefing from Air Force Commander Maj.-Gen. Tomer Bar, 140th 'Golden Eagle' Squadron (F-35) Commander Brig.-Gen. 'M', and visited the 140th Squadron's operations building.
"It is still too early to know if we have indeed succeeded in stopping the nuclear agreement, but Israel is prepared for every threat and every scenario," Lapid said.
"If Iran continues to test us, it will discover Israel's long arm and capabilities. We will continue to act on all fronts against terrorism and against those who seek to harm us.
"As President Biden and I agreed, Israel has full freedom to act as we see fit to prevent the possibility of Iran becoming a nuclear threat," the prime minister concluded.
Israel has opposed the efforts to revise the 2015 Iran nuclear deal on the grounds that its restrictions on Iran's nuclear program would expire in the coming years. its inspection regime is not sufficient to prevent Iran from violating the deal, it does not address Iran's ballistic missile program, and it would provide the Iranian regime with hundreds of billions of dollars which would be funneled to terrorist organizations across the Middle East and to facilitate terrorist attacks around the world.