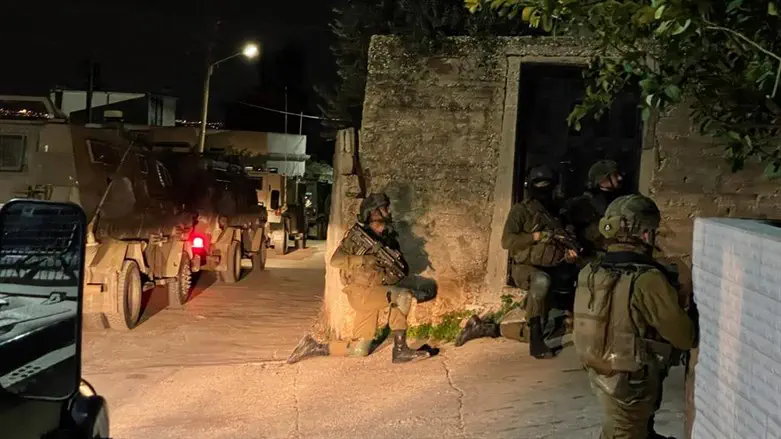 IDF prepares for demolition of home of Yehuda Dimentman's murderers
IDF Spokesman
IDF soldiers operated overnight Sunday in the Palestinian Arab village of Silat al-Harithiya, on the outskirts of Jenin, to map the home of the terrorists suspected of carrying out the shooting attack at the Homesh junction, in which Yehuda Dimentman was murdered.
The mapping was done in order to examine the possibility of demolishing the home.
During the operation, fire was opened towards the IDF fighters, who returned fire. None of the soldiers were wounded.
In addition, a disturbance developed during which dozens of Palestinian Arabs threw rocks and explosives at the forces who responded by using riot dispersal means and live fire.
Overnight Saturday, the Israeli Security Agency (Shin Bet), IDF and the special anti-terrorism unit of the Israel Police captured the terrorists who carried out the shooting attack near Homesh.
Four suspects were detained in the village of Silat al-Harithiya, northwest of Jenin, over their involvement in the murder.
In the framework of the field investigation, the suspected weapon used to carry out the terror attack was seized.
The investigation has found that two terrorists ambushed yeshiva students in the bushes and fired from a short distance at the car in which Dimentman and his two friends were riding. Yehuda was pronounced dead at the scene, and his friends were evacuated to hospital.
Footage from the vehicle in which Dimentman traveled with his friends was published Saturday night by Kan 11 News.
The footage, a product of the vehicle's dashcam, shows the flashes of gunfire from the terrorists' weapon.
15 bullet holes were found in the vehicle, which the victims continued driving as they called for medical aid.