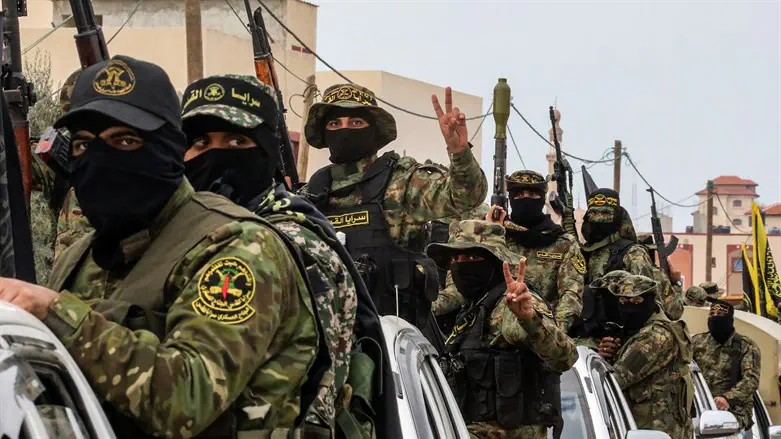 Members of Islamic Jihad's military wing take part in military parade in Gaza
Atia Mohammed/Flash90
Akram Al-A'jouri, the military commander of the Al-Quds brigades, the military wing of the Palestinian Islamic Jihad, told Al-Jazeera that "The Hommesh operation was intended to capture and kill occupation soldiers since the prisoner issue is one of the most important issues."
"The Homesh operation" is a reference by Al-A'jouri to the shooting attack by Palestinian terrorists near the evacuated village of Homesh in northern Samaria, which killed Yehuda Dimentman and injured two additional students at the Har Shalom yeshiva.
A'jouri claimed that the Al-Quds brigades managed to stop infiltration by Israeli intelligence into their ranks by employing two double agents, one of them was able to trick an Israeli intelligence officer and return after carrying out his mission.
According to him, the double agent who PIJ employed managed to photograph the Israeli intelligence officer with whom he met before returning to Gaza.
According to the report, these moves helped foil the assassination of a senior member of the Al-Quds brigades and uncovered the ISA's recruitment strategy.