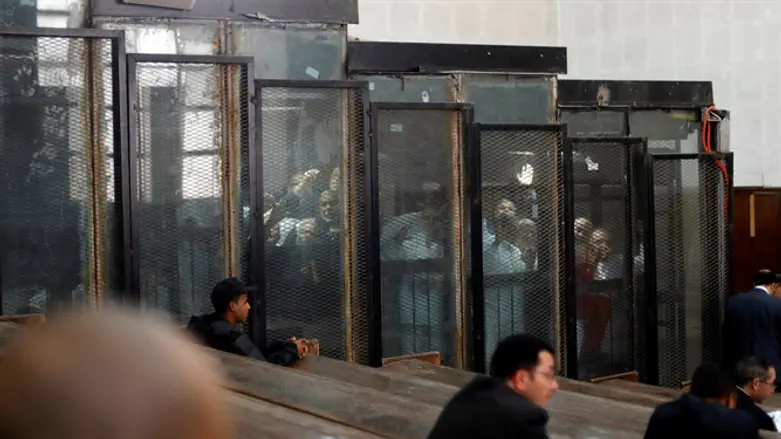 Muslim Brotherhood members behind bars during court session in Cairo
Reuters
The Trump administration is planning to designate the Muslim Brotherhood a foreign terrorist organization, an effort that is "working its way through the internal process," White House press secretary Sarah Sanders said Tuesday, according to CNN.
Sanders was responding to a New York Times report which cited officials familiar with the matter and which said the administration was working to make the designation. The move would impose "wide-ranging economic and travel sanctions" on entities that do business with the group.
The Times said that following a White House visit earlier this month by Egypt's President Abdel Fattah Al-Sisi, the administration "directed national security and diplomatic officials to find a way to place sanctions on the group."
According to the paper, Sisi "urged" President Donald Trump to make the move during a private meeting during his visit, and the President "responded affirmatively," agreeing "it would make sense."
The Muslim Brotherhood was outlawed and designated a terrorist organization in Egypt in December 2013, several months after the army, led by Sisi, ousted Islamist president and senior Muslim Brotherhood member Mohammed Morsi.
The organization has also been named a terrorist group by the United Arab Emirates and Saudi Arabia.
The Times report said the decision has caused infighting at the White House, including during a meeting held last week by the National Security Council that included top officials from different departments. National security adviser John Bolton and Secretary of State Mike Pompeo are supportive of the decision, the paper said, but the Defense Department, longtime national security staff and others have "voiced legal and policy objections."
The paper said people opposed to the idea "have been scrambling to find a more limited step that would satisfy the White House."
The move to blacklist the Muslim Brotherhood comes after Trump officially designated the Iranian Revolutionary Guards as a terrorist organization.
The decision effectively means that anyone who deals with the Islamic Revolutionary Guard Corps could face prison in the United States.
Shortly after the US announced its move, Iran countered by declaring the United States a "state sponsor of terrorism" and US forces in the region "terrorist groups".