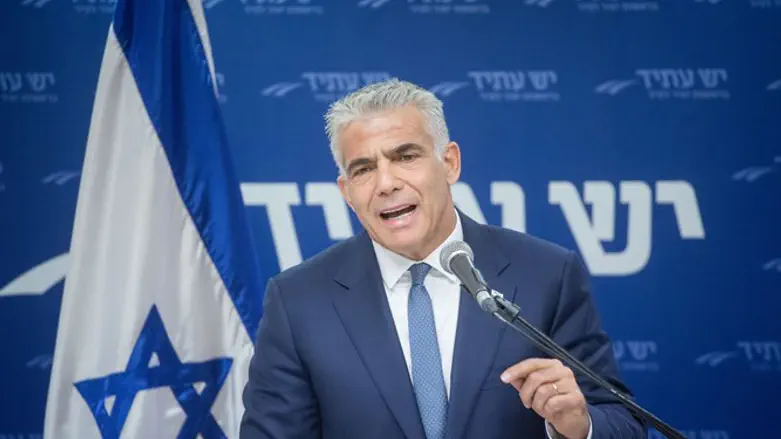 Lapid
Flash 90
Yesh Atid Chairman Yair Lapid opened his faction meeting this afternoon with an attack on the Prime Minister and cabinet ministers following the end of the conflict in the south.
"I heard the Prime Minister and the ministers declare victory in the last round, and I want to ask them one question: If there were more than 170 rocket and mortar shell hits here in Jerusalem, would you also announce victory? If the Jerusalem Forest and Sacher Park were on fire from kites would you say you're very happy?" Lapid wondered.
"The Israeli government has no policy vis-à-vis Gaza. Since 2014 when I was still in the cabinet, I've been pushing for an orderly policy of rebuilding Gaza in return for disarming the Palestinians. If the government has any other proposal, we'd be happy to hear it. At the moment, Netanyahu has no policy on Gaza except to wait for the next round and for the next fire. The residents of the Gaza vicinity deserve better," Lapid said.
Lapid later accused Netanyahu and his associates of being responsible for publicizing disinformation against him and his party. "In recent weeks we've witnessed a massive attack of fake news on Yesh Atid, and especially on me personally. I've been in politics for more than six years, and in the media for more than 30. I've never seen such a quantity of lies. It's not from the margins. It's from the government. Netanyahu's people are leading it, but the Zionist Union also puts a lot of money in it.
"They've convinced themselves it's okay to lie, it's okay to falsify, it's okay to invent," Lapid said. "In front of the cameras Netanyahu complains about fake news, but behind the scenes his people don't stop producing fake news. There's no means they haven't used. Fictional pages. Counterfeit visitors. False citations, creating the entire campaign of zigzags with sentences I never said, taking words out of context, facts that have nothing to do with reality.
"They say I'm zigzagging with regard to the haredim, because what? Because I wore a skullcap at the Western Wall? You wear a kippah at the Kotel," Lapid said, "Think about what you know, not about the fake news they're selling you. Who passed equality of burden? Who won this year in the Supreme Court on the Draft Law? Who's the only one who struggled to this day for studying mathematics and English in haredi schools? Who did you yourselves write would have a problem forming a coalition because he's the only one who's consistent in his struggle against religious coercion?
"They shy from nothing. They shamelessly spread lies. I met someone this week who said to me, 'What are you doing here? They said you were abroad all the time.' Because they have a whole campaign that Lapid's abroad all the time. Do you know how much I've traveled abroad in the past two years? 22 days. This year it was four days. Go check it," Lapid said,"but it doesn't bother them. They keep on lying. In social networks, on Twitter, in WhatsApp groups, at the Knesset plenum. I want to challenge the media, as well as the legal authorities. It's time for someone to investigate: Who's funding this campaign? From what sources? It's big money. Who pays all those people who sit on Facebook and Twitter to mess with me and Yesh Atid? How many of them receive a salary from the State? Is it the job of employees of the Prime Minister's Bureau to spread slander on political rivals?
"Ask yourselves - what are they afraid of? The answer is from Yesh Atid's strength, our truth, our clean reputation. Most frightening to them is that Yesh Atid is the only real alternative for replacing the government. I have only one thing to say to the Netanyahu people: It won't help. Nothing will stop us, the way of Yesh Atid will defeat old politics and the fake news," Lapid concluded.
לפיד: התקפה של "פייק ניוז" עלי