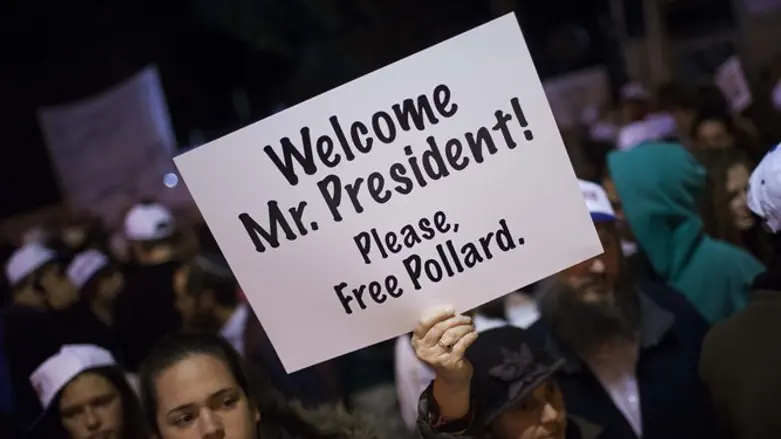 Demonstration for Pollard, 2013
Flash 90
On the eve of the American Embassy transfer to Jerusalem and President Trump's arrival to Israel, Moshe Feiglin, chairman of the Zehut Party, calls on Trump to bring Jonathan Pollard with him, who has been banned from leaving the US since his release from American prison in 2015.
"As we see, American President Trump has much vision and courage, unfortunately, such as does not exist in the Israeli government. Despite the obstacles that Netanyahu himself placed before transferring the American Embassy in Jerusalem, President Trump is faithful to his promise and is transferring it to the capital, its proper place from time immemorial, for which he will be blessed.
"I call on President Trump to show courage and leadership on the issue of Jonathan Pollard, to do the right thing, and bring him to Israel during his visit next week. Pollard paid a very high price for his service to the State of Israel and his dream was to immigrate to Israel. Even the greatest security experts in the United States and the heads of the defense establishment openly say Pollard poses no threat to the security of the United States. The time has come to cancel the restrictions on Pollard and allow him to come and live here in Israel."
The 63-year-old former civilian analyst for the US Navy was convicted in 1985 and sentenced to life imprisonment, but was paroled in November 2015, after having served 30 years in federal prison.
Jonathan Pollard
Reuters