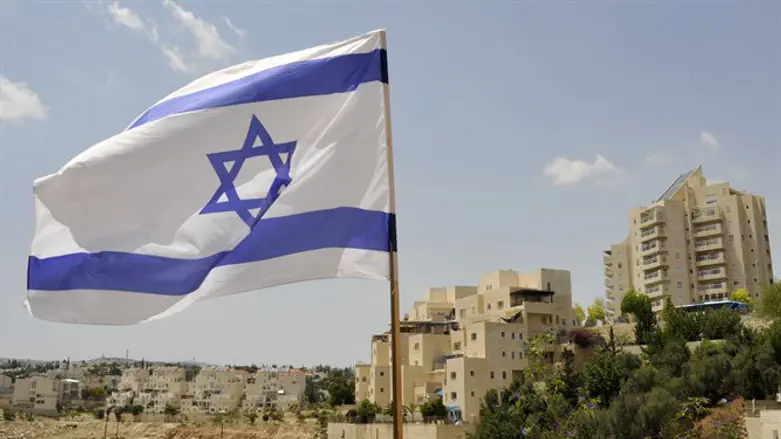 Israeli flag Ma'ale Adumim
Flash 90
The Jewish population in Judea and Samaria is on the brink of a period of major growth, and could top one million residents within 10 to 15 years, a veteran settlement leader said Tuesday morning.
Ze'ev "Zambish" Haver, Secretary-General of the Amana settlement organization and a long-time activist in Judea and Samaria, addressed an Amana event Tuesday morning, sharing his optimistic outlook for the future of Jewish communities in the area.
"The goal of getting to one million Jews in [Judea and Samaria] over the next decade or 15 years is absolutely achievable. It all depends on the work that we do."
Haver noted that public opinion in Israel had shifted, with even some on the left abandoning their traditional support for large-scale evacuations of Jewish towns in Judea and Samaria. Haver cited a string of recent comments by Labor chief Avi Gabbay as evidence of this sea change in public opinion.
"When the head of the Zionist Union – the head of the Israeli left – says something like this, it's not for nothing. Some people claim it's just a show for elections. But really there is a growing understanding of the consolidation of support nationally for the settlement movement."
Last month, Gabbay said he had no intention of evacuating Jewish communities in Judea and Samaria – even as part of a peace deal with the Palestinian Authority. Gabbay later doubled-down on the comments, following criticism from Zionist Union MKs. The Labor chief later dubbed settlements "the beautiful face of Zionism".
Haver emphasized, however, that while there were unique opportunities for expansion in Judea and Samaria, the settlement enterprise was also at risk of resting on its laurels.
"My feeling is that if we rest on our laurels and look back at all that we've accomplished thus far, and write a bunch of books about it, and spend a lot of time discussing the [past]… we are missing the mark. We need to maintain the same pioneering spirit and commitment to the goal that we had in the past."