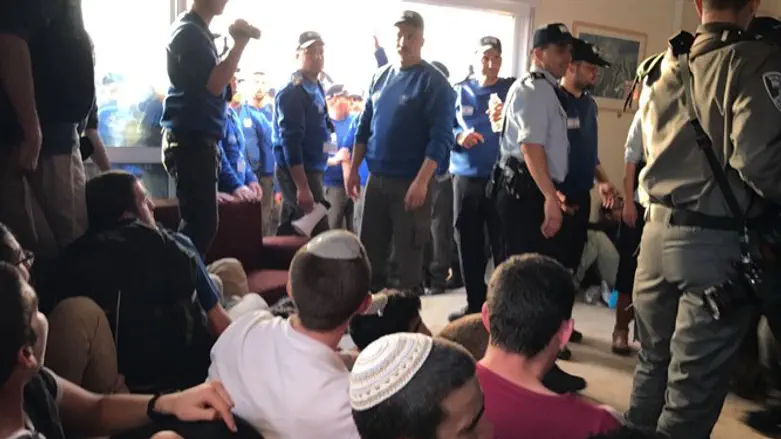 The evacuation of the ninth house in Ofra
Hezki Baruch
Police forces completed the evacuation of nine houses in the Samaria community of Ofra Tuesday.
The evacuation of nine houses in the Givat Tzvi neighborhood of Ofra commenced just after 9:00 a.m. Tuesday morning, after Border Police officers sealed off access to the homes slated for demolition.
Hundreds of demonstrators faced off against security forces deployed to the town, with some protesters barricading themselves inside houses facing demolition.
Prior to the evacuation, more than 100 Border Police officers deployed around the nine homes slated for demolition in Ofra.
Eleven police officers were lightly injured in clashes with protesters, four of whom were evacuated to hospitals.
The Binyamin Regional Council reported that 17 young men and women were also injured during the evacuation of a single home. Two of the youths were evacuated to hospitals.
Justice Minister Ayelet Shaked said "It is a difficult day for the residents of Ofra and for all citizens of Israel. It is the day when the evacuation of families from their permanent homes, in the heart of a flowering settlement, was carried out."
Shaked stressed that no Arab would benefit from the eviction of the families and the destruction of their homes. "The land which was fought over will remain empty and no one will benefit from it. There are only losers [and no winners in this case]. It is a disgrace for us."
Shaked expressed her hope that the passage of the Regulation Law would prevent similar scenes from occurring in the future. "We are working so that this will be the last pointless demolition."