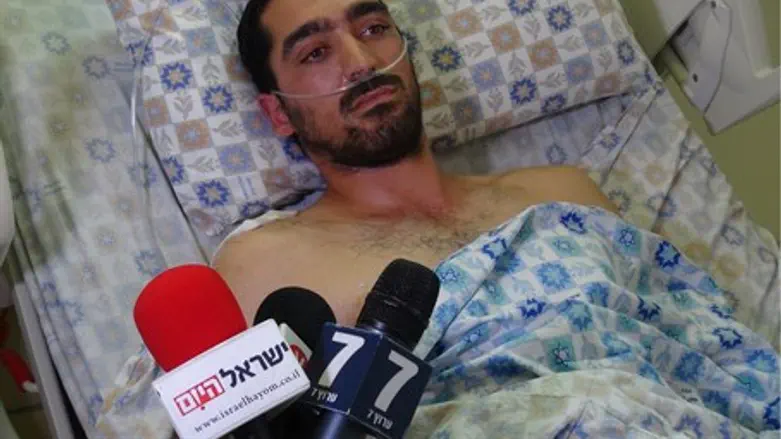 Yehuda Ben Moyal
Hezki Ezra
Yehuda, the 26-year-old who was lightly wounded on Sunday when an Arab terrorist stabbed him, relived the harrowing attack on Monday morning, relating the events that took place at the gas station on Highway 443 located northwest of Jerusalem.
Yehuda was stabbed in the back and shoulder while filling up his car at the gas station, and is hospitalized at Shaare Tzedek Hospital in Jerusalem. His attacker was shot and eliminated by IDF forces who were in the area, while three other Arabs who apparently were accomplices fled the scene.
"I was on the way to Jerusalem from my home, and he (the terrorist) took advantage of the opportunity when I got out of the car and he stabbed me," recalled the terror victim to Army Radio. "He came at me from behind, I felt suddenly that I was stabbed, and I ran, I fled from him."
"I ran, I fell, and got up and ran again, and again I fell," he said, reliving the nightmarish chase from his knife-bearing attacker. "He of course chased after me, and stabbed me again at every opportunity."
Yehuda recalled being stabbed no less than five times, noting, "I shouted 'help me, help me.' I ran to my car while still bleeding and just drove off."
In a chilling detail of the attack, Yehuda pointed out that the Arabs who were present at the gas station simply watched him being pursued by the knife-wielding terrorist bent on murdering him, and did not help him in any way.
"They watched and chuckled and didn't come to help. Even after I was stabbed," he said. "He just didn't stop until I managed to escape with the car." 
Before being neutralized by the police, the Arab terrorist tried to stab other victims at the gas station. One driver locked himself in his car and video-taped the attacker lurking outside while brandishing the knife. The video can be viewed by clicking the image below.
Less than an hour after the stabbing, MK Oren Hazan (Likud) and nationalist activist Baruch Marzel of Otzma Yehudit spoke with Arutz Sheva at the scene.
Hazan emphasized that "the time has come for us as leaders to take responsibility, to stop fighting among ourselves and to understand that there's an enemy here rising against us."
"We see that always when the government of Israel and the Supreme Court makes 'gestures' to the Arabs - they want to demolish a synagogue not far from here and give the land to Arabs who it doesn't belong to - every concession brings terror attacks, it brings disasters," said Marzel.
credit: יונתן סינדל, פלאש 90
credit: יונתן סינדל, פלאש 90
credit: יונתן סינדל, פלאש 90
credit: יונתן סינדל, פלאש 90