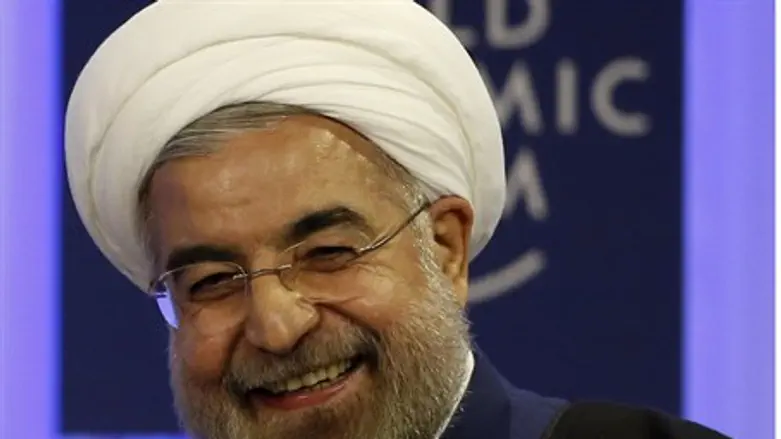 Iran's President Hassan Rouhani
Reuters
Iranian President Hassan Rouhani gleefully received the nuclear deal his negotiators sealed with world powers on Tuesday, glowing about how his regime had achieved all of its goals in the negotiations.
Rouhani stated that at the start of the talks, the two major goals of Iran were to remove all sanctions and keep its entire nuclear program while continuing to develop that program, reports the semi-official Fars News Agency.
Iran got the US and other world powers to concede on those demands in the deal, with all sanctions lifted - including those unrelated to the nuclear program, such as the ones on Iran's terror commander, and the UN conventional arms embargo that is to be totally removed in five years.
But despite the massive concessions, Iran is not forced to dismantle a single nuclear facility, beamed Rouhani.
He added that Iran will continue to "inject gas into its highly advanced IR-8 centrifuge machines, continue its nuclear research and development, and keep its Arak heavy water facility and Fordo and Natanz enrichment plants under the agreement," according to Fars.
Regarding the IR-8 centrifuges, critics have warned that the advanced centrifuges which are 20 times faster than regular ones will allow Iran to obtain a nuclear arsenal within weeks.
Another goal of Iran was to get itself removed from Chapter Seven of the UN Charter, which lists aggressive countries that pose a threat to peace, "and we did it," said Rouhani.
By contrast to Iran's attainment of its goals in the deal, House Speaker John Boehner (R-OH) on Tuesday warned that US President Barack Obama's administration had given up on its stated goals.
"At the outset of these talks, the Obama administration said it would secure an agreement that affirmed Iran does not have a right to enrich and permanently dismantles the infrastructure of its nuclear programs. It said that sanctions would not be lifted until Iran met concrete, verifiable standards. And if these terms were not met, the president promised he would walk away."
"The American people and our allies were counting on President Obama to keep his word. Instead, the president has abandoned his own goals," said Boehner.