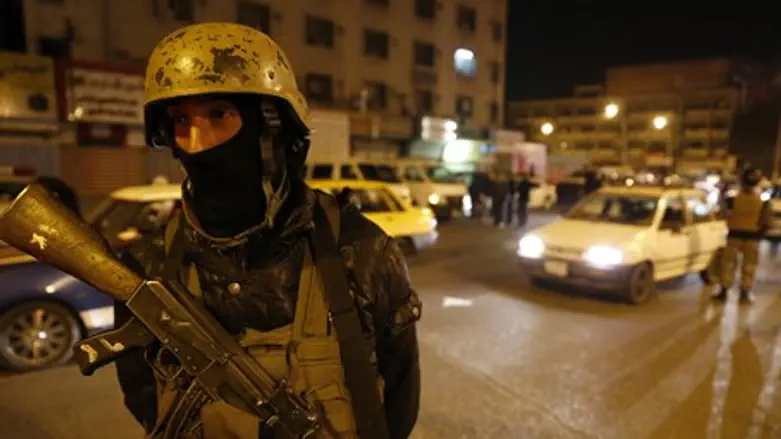 Iraqi troops (file)
Reuters
Iraqi authorities are on the defensive after the Islamic State (ISIS) group scored a major propaganda victory with attacks in Anbar, undermining confidence in Baghdad's attempts to retake the key province.
April began with government forces recapturing the city of Tikrit after a lengthy battle, Baghdad's biggest victory in the 11-month conflict with the jihadists, reports AFP.
Then Prime Minister Haider al-Abadi announced that Anbar province, much of which remains under ISIS control, was next.
ISIS struck back with attacks in Anbar that shifted the narrative from one of government victory to one of impending defeat - and sparked rumors of a cover-up of the deaths of more than 100 soldiers.
"There are no military victories for ISIS in Anbar. What happened there is psychological war," Abadi said on Tuesday in parliament, trying to counter the mounting criticism.
"Some of us took part in the psychological war with statements such as 'Anbar fell or will fall.' Anbar is still resisting," he said.
After the Tikrit victory and Abadi's announcement that Anbar west of Baghdad was next, ISIS launched attacks in the area of provincial capital Ramadi.
Officers said the assaults involved only dozens of fighters, but more than 110,000 people fled, adding to the strain of upwards of 2.5 million displaced since last year.
The jihadists first seized Albu Faraj on the northern side of Ramadi, then attacked security forces in the east, taking several other areas, officers said.
Army Brigadier General Abdulamir al-Khazraji said the situation was made worse by people collaborating.
They began shouting that ISIS "controlled Anbar and the government (buildings) in it, and this caused a state of panic and fear," Khazraji said.
A major blow came after ISIS attacked an army post east of Ramadi last Friday.
Rumors of heavy casualties
Rumors that more than 100 soldiers were killed in the attack swept through social media, assisted by press reports.
This was more than double the toll that even ISIS gave, sparking accusations of a cover-up and calls for Defense Minister Khalid al-Obeidi to go.
Unusually, it was supposed government supporters who spread the rumors, not slick ISIS propaganda.
"I call you all to join the campaign to remove the traitor Khalid al-Obeidi," one user wrote on Twitter, while some even accused him of being in ISIS.
Obeidi called a news conference to say that the toll from the attack was 13, including two top officers. Abadi, Obeidi and Interior Minister Mohammed Ghaban then took to parliament to defend their records and criticize the rumors.
"What happened in the media, and the statements of some brother MPs and politicians, was destructive to the morale of the fighters," Obeidi said.
Abadi said: "Two-thirds of the battle is psychological. From a military standpoint, we have multiple problems" but have not been defeated."
Anbar poses major military challenges. Government forces have not made significant progress in retaking the Ramadi areas lost this month, and much of the rest of the province remains out of their control.
Army Staff Major General Mohammed al-Dulaimi said there are not enough Iraqi security forces in Anbar, given its massive size, and they hold only part of Ramadi and a handful of other areas.
For ISIS, the propaganda gained from this month's Anbar attacks is vital, following a string of defeats it has suffered elsewhere, including in Tikrit.
"I see this as Daesh trying to make themselves relevant again," a senior officer in the US-led coalition against the jihadists told AFP, using an Arabic acronym for ISIS.
"They're an organization that must appear to be going forwards - they must appear to be winning."