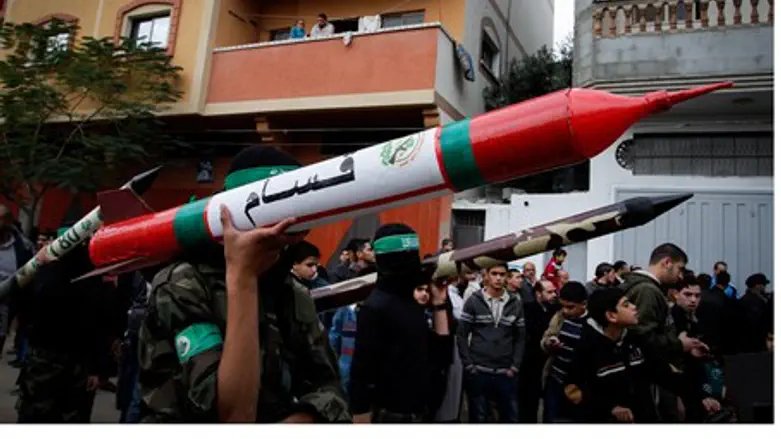 Hamas - not a terrorist organization?
Abed Rahim Khatib/Flash 90
Hamas is claiming that its security forces in Gaza arrested an "Israeli agent" who was tasked with gathering information on the weapons presented by the Al-Qassam Brigades during a parade held this week to mark the anniversary of the establishment of Hamas.
The Hamas-affiliated Al-Majd website reported on Thursday that the alleged "agent" admitted that an Israeli intelligence officer instructed him to record details regarding the weapons and report about the places where the missile and UAVs that were on display were stored after the parade.
Hamas's rulers in Gaza regularly expose and execute people who are deemed to be "collaborating" with Israel.
Last summer, during Operation Protective Edge, Hamas executed more than 20 alleged collaborators with Israel.
The move was blasted by the Palestinian Authority, which said that the executions had been conducted illegally outside of the Palestinian court system and could thus not be considered to have gone through fair process.
Under Palestinian law, collaboration with Israel is punishable by death. All death sentences, however, require Abbas's approval before being carried out, and Abbas issued a moratorium on death sentences in 2005.
Until the formation of a unity government in April, Hamas carried out executions under its own authority because it did not recognize Abbas's authority, arguing that his term expired in 2009.
Amnesty International has called on Hamas to stop the executions of suspected collaborators, saying that the group "must immediately and totally cease its use of the death penalty."