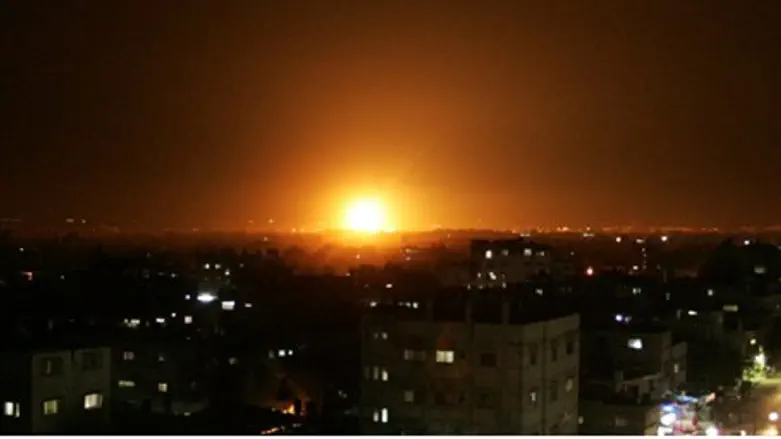 IAF airstrike in Gaza (archive)
Flash 90
Aircraft of the Israeli Air Force (IAF) attacked seven terror targets in Gaza on Thursday night, shortly after midnight.
In a statement, the IDF Spokesperson's Unit said that three targets in northern Gaza and four targets in southern Gaza were hit.
"The IDF will not tolerate any attempt to harm Israeli citizens and IDF soldiers and will continue to act decisively and strongly against anyone who carries out terror activities against the State of Israel," said the statement, which added that any Gaza rocket fire was the responsibility of the Hamas terror organization which rules the region.
"The IDF is prepared to defend the citizens of Israel," the statement said.
The IDF airstrikes came after Gazan terrorists continued to fire rockets at southern Israel, even after the Islamic Jihad claimed that an Egyptian-brokered ceasefire would take effect at 2:00 p.m. on Thursday.
As of Thursday night, at least nine rockets were fired on Israel's south from Gaza, a continuation of the escalated rocket barrage, in which roughly 100 rockets have been fired since Wednesday.
The latest attack was recorded shortly after 11:00 p.m., when a rocket fired by Gaza-based terrorists exploded in an open area of the Eshkol Regional Council on Thursday evening.
Most of the rockets exploded in open areas, several of them being shot down by the Iron Dome system which was stationed in Be'er Sheva and Sderot and which is designed to intercept rockets before they explode in populated areas.
The rocket barrage has led Intelligence and Strategy Minister Yuval Steinitz and Foreign Minister Avigdor Liberman to call for Israel to retake Gaza.
"Sooner or later we will have to take control of Gaza, in order to get rid of the Hamas regime," Steinitz said. "We do not need to reoccupy it permanently, but we do need to remove from Gaza the option of firing rockets on us."