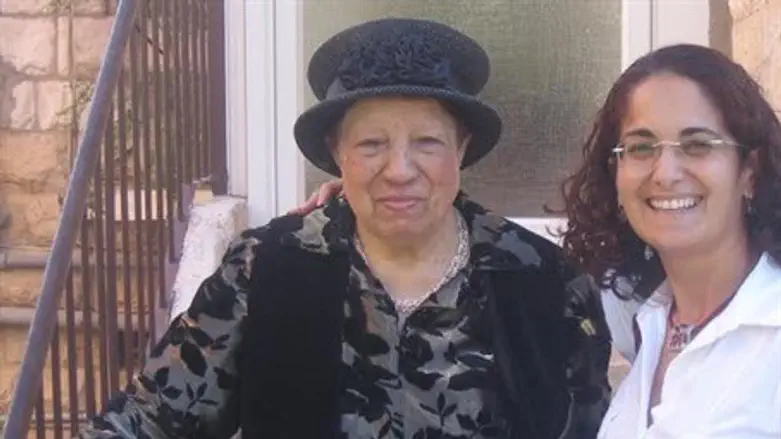 Rabbanit Kapach and granddaughter
INN: AK
"Is this the woman you told us about?", my senior class students would ask in awe as the diminutive, smiling and unassuming Rabbanit Bracha Kapach, z"l,  a cloche hat covering her hair and her dark eyes twinkling, would let us into her home where we could see firsthand how this one person dynamo managed to help so many people in so many ways.
The visit was part of the annual senior "Jerusalem Night", when twenty five to thirty years ago, the Horev high school graduating class and I would wander through Jerusalem neighborhoods lit by the moon and stars, to places where I had arranged for them to meet special women – not those who had reached personal pinnacles of achievement, but those who had chosen loving kindness as their career.
And the star of the evening, the most memorable of the experiences and the one that had the most influence on my students, was undoubtedly Rabbanit Kapach. Because that tiny, friendly and resolute woman, with her no-nonsense-do-something approach to every problem, who lived in in the picturesque and old Nahlaot neighborhood near the center of town, was actually a giant – in deeds.
In that house in Nahlaot lived a woman born in Yemen, married at age 11 to her first cousin, a Torah scholar who was to become Rabbi Dayan (Rabbinic Court Judge) Yosef Kapach. (The late Rabbi Kapach was internationally renowned  in the Torah world for his expert translation of the works of Maimonides – for which he also received the Israel Prize.) The couple immigrated to Israel when the Rabbanit was 17. One of their three children died as they made their arduous way and a fourth child was born in Israel.
The family settled in Jerusalem, where Rabbi Kapach, a brilliant Talmudist, learned and taught Torah without pause, soon serving as the recognized leader of Israel's Yemenite Community and member of the Chief Rabbinical Court; the Rabbanit found the time to run the household, raise her children, and make her mark on social welfare in Jerusalem.
The young mother soon became aware of the economic woes facing the Yemenite community in Israel and decided to make a difference. Using the traditional embroidery skills for which Yemenite Jewish women were famous, she opened an embroidery enterprise that eventually employed over 50 women. She closed the successful business when the needy began to occupy all her time, but not before she found jobs for all the women in her employ.
The Rabbanit then created the "Sgulat Naomi" charity organization in her mother's memory. Her home soon became the repository for used clothing as well as for used and donated wedding gowns for brides from poor families – at one point she even opened a Boutique for such brides – whose weddings she also helped to organize. Each year, for over fifty years, she raised money to purchase holiday food for the poor, especially seeing to wine and matza for Passover (a tradition known as kimkha depiskha). Large groups of student volunteers would help package the food that she distributed to thousands.
Her door was always open to those in need of advice and practical help and her annual fundraising event was filled to capacity with people who knew that every penny went straight to where it was most needed.
In 1999, Rabbanit Kapach was awarded the Israel Prize for her special contributions to society and the State of Israel. She and her husband are the only married couple to have both won the Israel Prize for individual achievements. She had already been awarded the Jerusalem Prize.
But it is the stories about her that reveal the greatness of the Rabbanit. This past Wednesday night, 30 days after her passing (called the shloshim in Jewish custom), hundreds of Jerusalemites of all ages and ethnic origins gathered at  Ben Tzvi Center's auditorium in the Rechavia neighborhood to talk about Rabbanit Kapach.
Members of the Emunah Women's Organization, on whose board she served for many years, extolled her part in the organization's charity works, but the most poignant stories heard were of her personal care for the needy.
"One Friday", said a granddaughter, "on my way to visit her, I heard a radio announcer talking about a poor, elderly man who lives alone and has nothing to eat. I arrived in the afternoon and found my own elderly grandmother at the stove .'What has happened; I asked, 'you always finish cooking for the Sabbath before dawn so you have time for your charity work'. 'I did', she responded, 'but I heard a radio program about a poor man who had no food, so I went to find him and gave him all our Sabbath food. Now I am cooking again.' I heard the same story, but she heard it and did something about it."
Perhaps her biggest contribution was effecting a complete change in the way the elderly indigent were taken care of by Jerusalem's Welfare Department. This is how it began:
"One day she left the embroidery workshop with money to deposit and as she walked, heard a woman screaming that she was ravenous. She went into the building from where the shouting came and found a half-clothed elderly woman in an indescribably filthy apartment, sitting on bundles of rags – instead of a mattress – who said she had not eaten in three days. The Rabbanit brought her food, cleaned the house, cut her hair and combed it into braids. "Who sent you", asked the tearful woman. "The Almighty", said the Rabbanit and from that day on, brought her food daily until she died five years later.
Slowly but surely, she heard of other elderly persons in need. She heard of a very old woman who had not been cared for in over 20 years. She found her full of lice and sitting on the floor, but undeterred, the personally fastidious Rabbanit brought a clean sheet to cover the floor, another to cover the woman, and cleaned her up – lice and all. She had all the apartment's contents burned and brought clothing and new furnishings from her own home, along with 5 boys she commandeered to clean the apartment. "This is my first night's decent sleep in years", the woman admitted.
An elderly woman was hospitalized for pneumonia and her inexperienced husband set the house afire lighting the stove. Rabbanit Kapach ran into the flames with a blanket, but he didn't answer her calls, until she felt him on the bed and he said that he wants to die. The Rabbanit dragged him out on her back covered in the blanket and refurbished the entire apartment: running water (which they had not had!), beds, linens, etc. The couple benefited from the Rabbanit's care for their remaining years.
More and more elderly people knocked at her door, more and more stories of neglect reached her home One day she had had enough of seeing the situation and went to the local Welfare Ministry to tell them how they are failing an entire population sector. The head of the office was called and had no choice but to agree with her. That is how the "Mataviot" project began – women employed by the Welfare Department who come to the houses of indigent and ailing elderly every day for several hours to clean, cook and shop for them. In fact, Rabbanit Kapach's large group of friends were the first "Mataviot" to be hired by the municipality and the project - expanded and available to all the ailing elderly - exists to this very day.
She also helped teenagers. One day, she saw a group of teens sitting on the fence in her neighborhood, bothering passersby and smoking. Never one to run away from a problem, she approached them and convinced them to take care of themselves, obtaining a rented room for them to live in at an elderly woman's home – one of her protégées. Every day she would go there at 8a.m. to talk to them, bringing them tasty food. One day, the leader of the group appeared with a regular haircut, dressed neatly and bearing the news that he had decided to do tshuva – become observant. The others followed in his wake and all ended up married and raising families; three hold administrative positions.
The Rabbanit would visit poor moshavim of Yemenites and once heard a child being beaten by a father who told her that he didn't want the child. The Rabbanit put the boy in a yeshiva and told the dean that she would pay for the best teachers to tutor him. They soon discovered that he was intellectually gifted – he served as an IDF officer and is now a community rabbi, father to 13 children, some of whom are married. He called the Rabbanit "Imma", a well-deserved title, as she even brought him candies to the yeshiva each Shabbat.
The IDF also knew about Rabbanit Kapach and after the Six Day War, the Engineers Corps asked her to embroider a large flag with their symbol. She and her friends did a beautiful job and the Commander of the Corps came to pay her. The Rabbanit would not accept money for helping the IDF, but did want one thing: a tour of the places recovered by the Jewish people in that lightning, miraculous war. "With my friends", she added, when the Commander agreed, little knowing with whom he was making a deal. In the end, three buses full of happy Yemenite women went on one of the first tours of Judea and Samaria, organized by the army, no less.
And that is a brief picture of the tzaddeket (righteous woman of valor) Rabbanit Bracha Kapach z"l. Books will be written about this indomitable Queen Mother of Israel, and hopefully, they will do her more justice than this writer's article can possibly attempt to do.