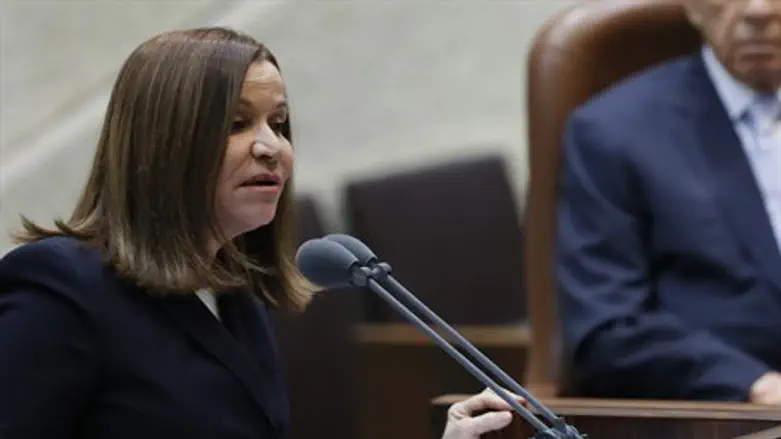 MK Shelly Yachimovich
Flash 90
The chairwoman of the Labor party and opposition head, MK Shelly Yachimovich, clarified on Saturday that she was not in a rush to join Prime Minister Binyamin Netanyahu's coalition.
Last week, Yachimovich said she would reconsider entering the governing coalition when the religious-Zionist Bayit Yehudi party decides to leave it because of a diplomatic agreement with the Palestinian Authority (PA).
Justice Minister Tzipi Livni (Hatnua), eager to see a coalition that would it make it easier for her to pass an agreement with the PA, has been calling Labor to join the coalition in order to weaken the Bayit Yehudi.
Yachimovich, however, said Saturday that she saw no reason to heed Livni's call and join the government at the present time.
"What should we enter the coalition for? A wave of construction in the settlements? To deepen the gap between the rich and the poor? For Livni and Molcho to fight amongst themselves in the negotiating room?" said Yachimovich.
She continued, "Livni's call is coming out of political distress, and is not a call for peace. Having Labor entering the coalition now means the elimination of any chance for progress in the peace talks, because with such a great fig leaf in the coalition, why should Netanyahu make any progress?"
Yachimovich also took advantage of the opportunity to once again voice her displeasure at MK Avigdor Lieberman's acquittal on charges of breach of trust, which she had also done hours after his acquittal was announced on Wednesday.
"I refuse to participate in this festival where all the politicians make pilgrimages to Lieberman and apologize for the drawn out legal proceedings. I do not participate in these celebrations," she declared, adding, "Lieberman's acquittal is a difficult day for the rule of law and the political system in Israel. I respect the courts, but in practice, a corrupt and powerful man managed to escape all the legal systems."
"The message to the public is very problematic," she continued. "Anyone who has money, connections and sophistication, can come out clean. The investigation against Lieberman was continually disrupted: one witness passed away, another committed suicide, another lost her memory. It is legitimate and appropriate to use the word corrupt in this case," she charged.
Yachimovich added that it would be a mistake to re-appoint Lieberman as foreign minister.
"Especially now, in light of the attempts to start the negotiations with the Palestinians and in the wake of the delicate relations with the U.S., and especially in light of the Iranian issue becoming more complex, a foreign minister like Lieberman deepens the gaps and pours fuel on fires instead of putting them out. This is not good for Israel," declared Yachimovich.